LIBRE's grassroots leaders reflect on what Glenn Youngkin's win means for Hispanics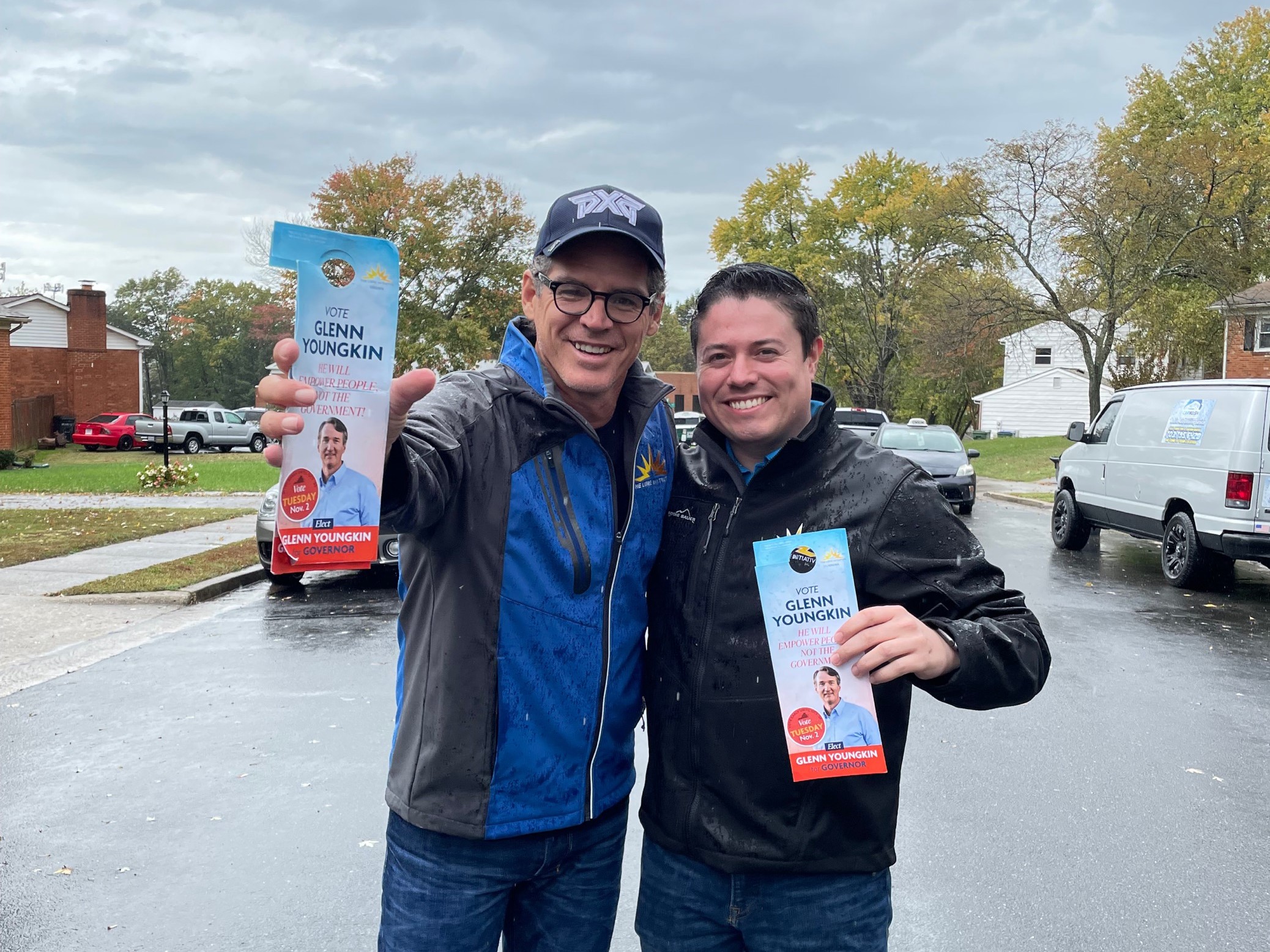 Around midnight on Thursday, October 28, heavy rains and strong winds rolled into Virginia. By Friday morning, parts of Northern Virginia and the Washington metro area were hit by what the Washington Post called the "worst coastal flooding in years."
But that wasn't the only storm brewing in the region.
The LIBRE Initiative was out in full force in the community in support of Glenn Youngkin, our policy champion in Virginia's governor race.
Led by LIBRE-Virginia Coalitions Director Michael Monrroy and Strategic Director Joshua Raimundo, staff and volunteers braved the wind and wet to knock on doors and talk to friends, family, and neighbors about how Youngkin's agenda would empower the Hispanic community and help it thrive.
Here, Monrroy and Raimundo talk about what Youngkin's win on November 2 means for Hispanics.
What was your reaction when you first heard Youngkin won?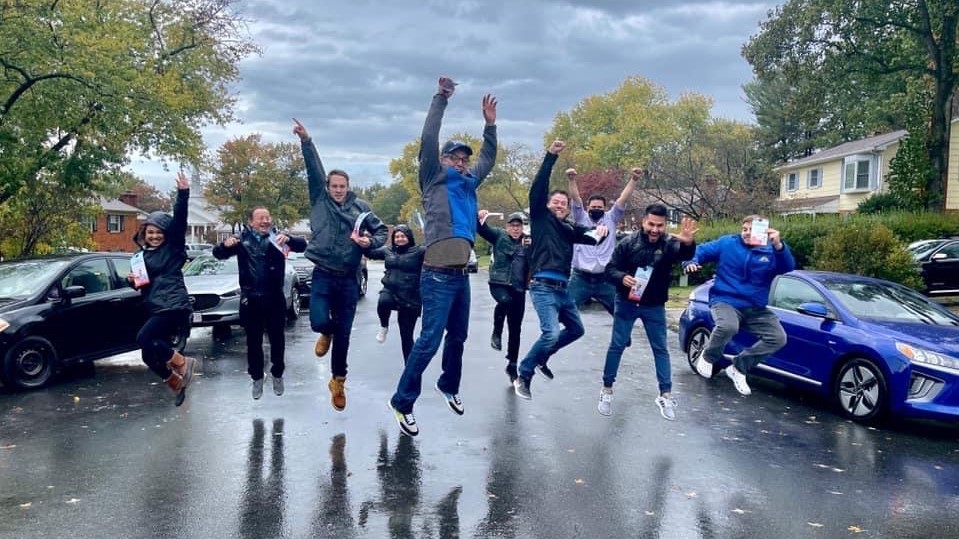 MM: On Election Day, I was excited and physically tired — several LIBRE staffers, volunteers, and I had been knocking many doors through the cold rain — but excited at the prospect of working with a policy champion in the governor's mansion to break barriers to opportunity in the areas the Hispanic community cares about most.
JR: Joy. Relief. It felt like a personal victory. I had sunk the last month of my life into it. It felt so good to win. Same with our legislative races. Our volunteers worked hard to make it a reality, and they were successful!
I was also filled with hope that Virginia will have a brighter future, and that Hispanic families like mine will be able to thrive in the state I call home.
Once LIBRE endorsed Youngkin, its grassroots deployed quickly — how did that happen?
MM: We were able to mobilize quickly thanks to the passionate, freedom-minded activist community we have developed over a long time, along with our dedicated LIBRE colleagues from across the country who phone banked into Virginia's Latino community and deployed to Virginia to knock thousands of doors.
JR: Since we endorsed Youngkin in early October, I knew we'd have to pivot fast. We mobilized our volunteers to phone bank. But to hit our door knocking goals in such a short time, we needed LIBRE deployment.
MM: The decisions and resources to get everything running started with internal conversations with our state leadership in Team Virginia, which then branched out to LIBRE leadership, political, comms, policy, and beyond.
Our team was able to make the case that in a tied Youngkin-McAuliffe race, the difference that LIBRE- Virginia could make in addition to AFP-Virginia could affect the race's outcome.
Leadership agreed, and we were able to create graphics, press releases, call scripts, door hangers, engage media, deploy activists and more in a short period of time.
Which issues — education, economy, health care, etc. — got the strongest response from the people LIBRE engaged?
MM: Economy and education, followed by health care.
The main theme we talked about at the doors and in the media was how unaffordable life has become in Virginia. The cost of groceries, gasoline, and housing is too high due to policies out of Richmond and Washington, and Latino voters agreed.
Latino voters were also upset with Terry McAuliffe's comments on parent's involvement in what is taught in schools and with their disrupted education experience during the pandemic. For the first time, education was a leading issue in a statewide campaign, and we have a great opportunity to increase educational opportunities for students in the upcoming state legislative session.
Finally, people responded positively to a health care personal option and expanding access to affordable and quality health care.
LIBRE's team is getting the word out to Virginia's Hispanic voters about Glenn Youngkin: the right choice for Latinos because he is committed to breaking down barriers to affordable health care, educational options and economic opportunities. pic.twitter.com/AeTSd2gNcP

— The LIBRE Initiative (@LIBREinitiative) October 29, 2021
JR: Our talking points on education hit home for the Hispanic community. Sharing how Youngkin wants funding to follow the child, and to give more options than your local schools resonated the most.
On the economy, a positive outlook on reduced taxes, reduced regulations on businesses, and opening up the state persuaded dozens of people to vote Youngkin.
He has said many times he wants to eliminate the grocery tax. When I brought that up at the doors, that was an instant winner, too.
What should Youngkin's top three agenda items be? How will that agenda benefit Virginia Hispanics?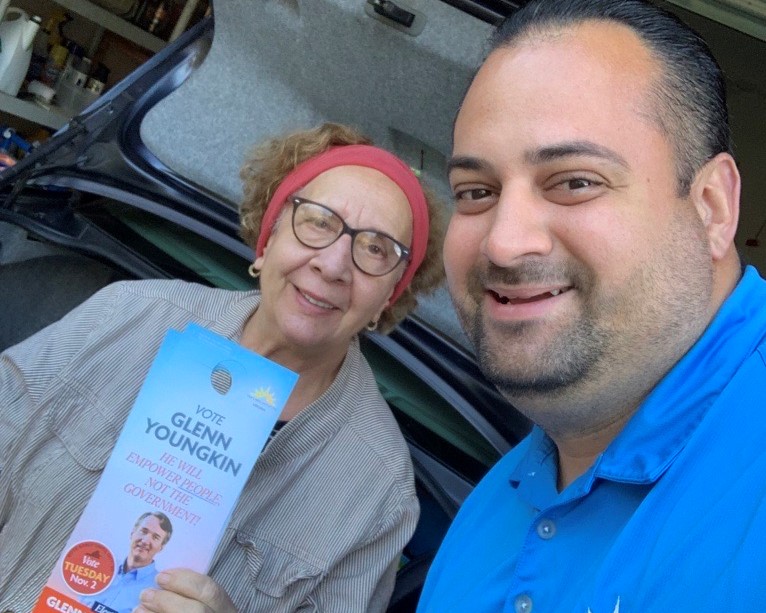 MM: Youngkin campaigned on eliminating the grocery tax, reducing the gasoline tax, and increasing educational opportunities for students. These are kitchen table issues for Latino voters in Virginia and will greatly transform their lives if implemented and passed early.
JR: He needs to follow up on his promises to reduce taxes and regulations.
He should also create a listening committee to hear parents' concerns around education and introduce learn everywhere-style legislation to transform education in Virginia.
Additionally, focus on expanding opportunities in health care, not only increasing scope-of-practice and eliminating certificate-of-public-need laws, but reducing red tape, thereby allowing innovative solutions to come forward.
What should the new governor do to expand educational opportunities for Hispanics?
MM: Youngkin has a great opportunity to pass reforms that will allow open enrollment policies, expand the means by which families can choose the right education for their child, increase course access, give students credit wherever they learn, and promote more charter schools.
JR: Propose educational opportunity legislation allowing funding to follow the child.
Additionally, put forth a Learn Everywhere-style bill that would increase learning options for students by allowing any instruction — from trade skills to financial literacy — to count as school credit.
How important was the Hispanic vote in this race?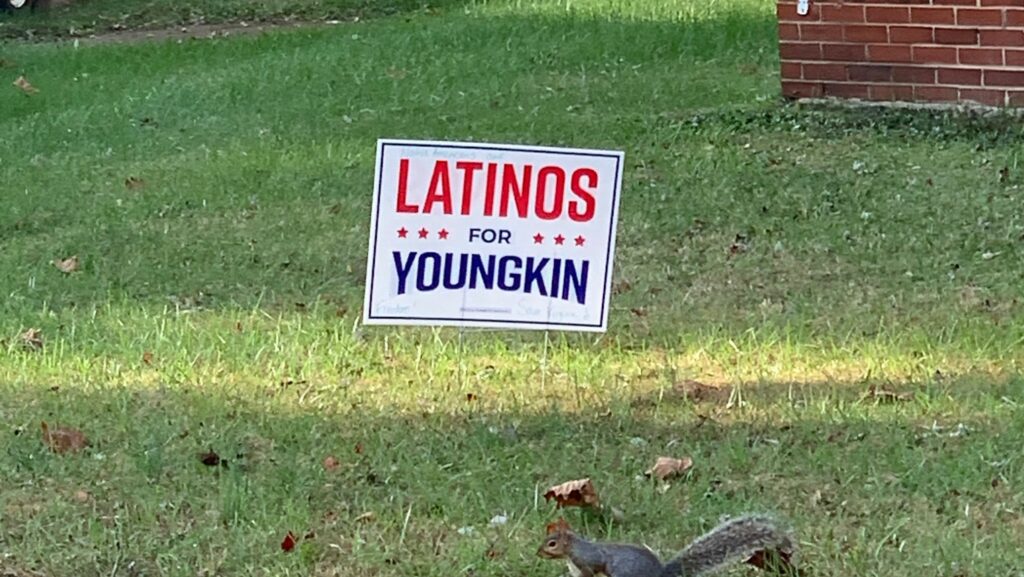 MM: The Hispanic vote was key to Youngkin's victory by increasing his margins in high population areas of Virginia that traditionally vote Democratic in higher numbers.
This indicates the Hispanic community is diverse in its opinion and responds favorably to kitchen table, freedom-minded issues and messages that reach its community in English and Spanish.
It also indicates that both parties need to genuinely increase their Hispanic engagement and not take this community for granted.
JR: I believe it had a huge effect. Some say Youngkin won the Hispanic vote 55 percent to 45 percent. There's some dispute about the final numbers, but it's clear his message appeals to all communities, and that Hispanic voters really care about the same things everyone does: a strong economy and a bright, healthy educational foundation that will launch families to be successful and free for generations to come.
This is the winning formula: positive, practical, economic and education focused messaging that brings people together. Other candidates, take note!
Did people respond to Jason Miyares also being on the ballot?
MM: When LIBRE activists and volunteers knocked on doors, we only talked about Glenn Youngkin. He was our only statewide candidate endorsement. Aside from this, Miyares' victory — as the first Latino elected to a statewide office — is a historic event that we celebrate. We look forward to engaging with him and his office moving forward.
JR: Having Miyares and Winsome Sears with him shows Youngkin believes in hearing from all communities and elevating leaders in all communities.
Both Miyares and Sears are children of immigrants, which shows Youngkin believes in how immigrants can contribute to this great country and our great commonwealth.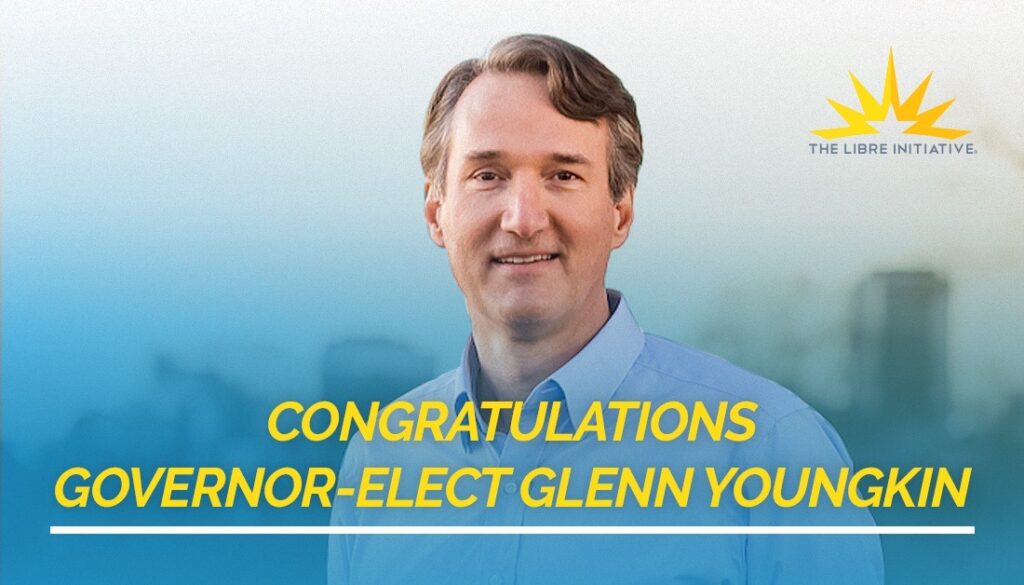 Get even more detailed analysis of Youngkin's victory from LIBRE's top leadership.