The LIBRE Initiative Announces Mailer & Digital Ad Campaign Opposing $3.5 Trillion Spending Bill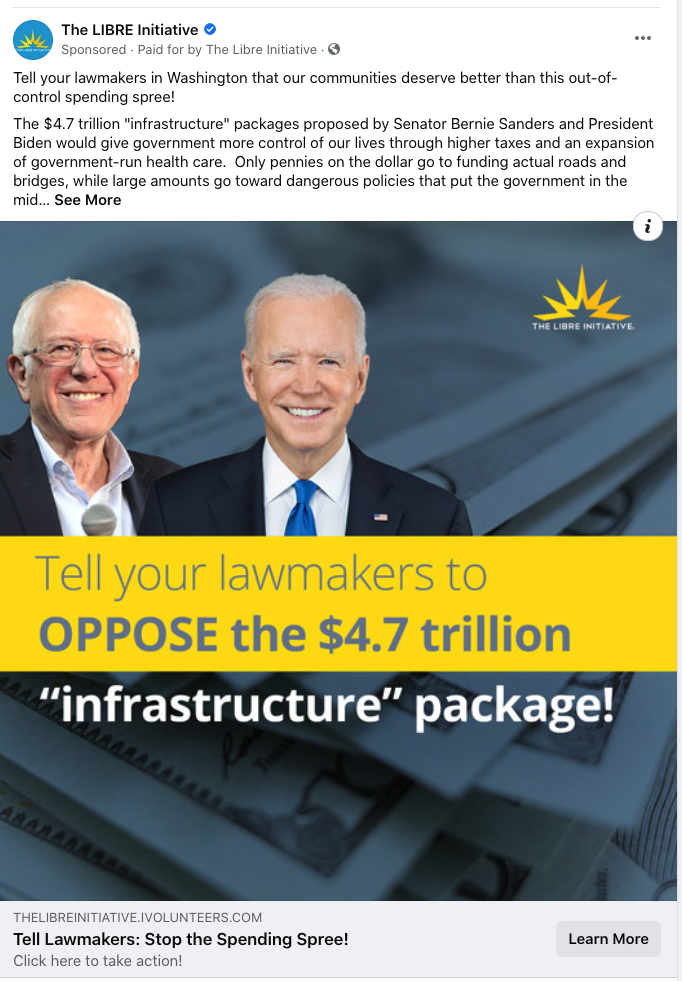 The LIBRE Initiative Announces Mailer & Digital Ad Campaign Opposing $3.5 Trillion Spending Bill
Hispanic Advocacy Group's Campaign Will Launch in Key states
(Arlington, VA) – Today, The LIBRE Initiative, an organization committed to empowering the Hispanic community, announced a layered campaign – including digital advertisements and mailers – in opposition to the infrastructure bill's tax hikes to pay for trillions in new federal spending. This campaign is part of a large, comprehensive campaign with Americans for Prosperity to End Washington Waste.

The proposed tax hikes and federal spending come at a time when leading economists are warning that it will lead to even more inflation and higher prices. Additionally, a recent non-partisan Joint Committee on Taxation report found that 25% of the burden of the corporate tax may be borne by labor in terms of diminished wage growth.

To inform Latinos about the negative effects of overspending and overtaxing, The LIBRE Initiative plans to send out mailers and advertise digitally in key states across the country, including: Texas, Florida and Arizona.

Daniel Garza, president of The LIBRE Initiative, issued the following statement:
"The economic opportunity that so many Hispanics in this country have come here searching for is on the line. Instead of trying to grow the economy so that more and more Americans – including those in our Hispanic community – can find work and enjoy the fruits of their labor, lawmakers in Washington are proposing massive tax hikes to pay for one of the biggest expansions of the federal government in our country's history."
Garza went on to say:
"As an organization committed to empowering the Hispanic community, we will not look the other way and allow this unfettered and reckless spending spree to continue unabated. We will inform the Latino community about the negative effects of these harmful economic policies and mobilize our grassroots army of volunteers and activists to hold our elected officials accountable."
Background
The LIBRE Initiative is a national organization committed to empowering the Latino community by removing barriers so that they can find personal fulfillment and live out their version of the American Dream.
The LIBRE Initiative is opposed to massive tax hikes because research shows that tax hikes will make it more difficult for small businesses to grow and expand. Additionally, economists warn that massive tax hikes will result in stagnant wages for many American workers.
The campaign will focus on 22 U.S. Representatives and 3 Senators and will feature two thirty-second spots running on online and connected TV platforms highlighting the risks to inflation and the harmful effects of a government takeover of the economy. The effort also includes targeted radio ads, several waves of direct mail, and layered digital ads to supplement the work of LIBRE and LIBRE's sister organization, Americans for Prosperity's grassroots activists.