Despite Progress, the No Child Left Behind Reauthorization Fails on School Choice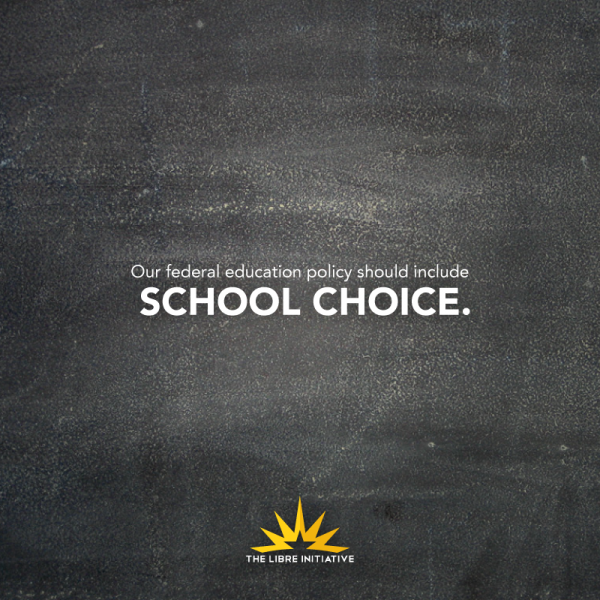 Last week, The U.S. House of Representatives voted on and passed a reauthorization of the Elementary and Secondary Education Act (ESEA), also known as "No Child Left Behind" (NCLB). The U.S. Senate gave its approval today, and President Obama is expected to sign it into law. The new reauthorization – the "Every Student Succeeds Act" represents a step in the right direction in terms of reducing the burden of federal regulations in public schools, but unfortunately it does not go far enough in offering real reforms for our troubled public education system.
Not going far enough is most evident in the exclusion of "Title I portability" from the final version of the bill. Title I portability is a much needed school choice-oriented provision that would benefit low-income students by allowing federal dollars to follow them to the public school of their choice. This provision was originally included in the House-passed version of the bill, but it fell victim to politics during negotiations with the Senate and White House. Without school choice at its core, the ESEA reauthorization continues to restrict access to high-quality education for millions of Hispanic families by confining them in schools that often fail to educate their children.
The ESEA reauthorization reduces burdensome federal oversight in public schools by removing several accountability provisions that made No Child Left Behind highly unpopular among school administrators and families alike. To this end, both bills give greater authority to states in defining school accountability measures. While these are certainly welcome developments, the legislation misses an opportunity to expand educational choice, especially in regard to Title I funding.
The ESEA's Title I section is by far the largest source of federal funding awarded to states for direct distribution to school districts. A total of $14.5 billion was allocated for the program in fiscal year 2014. The purpose of Title I funds is to provide financial assistance to high-poverty schools and school districts. Currently, the funds are distributed to states though a complex formula, with the states responsible for the disbursement of funds to schools or districts which apply. Title I funds play an important role in making sure all students are provided with an equitable education, but the program is not devoid of problems, many of which raise doubts regarding the program's actual effectiveness for disadvantaged students. Recently, some of these problems were highlighted in a policy brief by Reason Foundation. Furthermore, a comprehensive study by Harvard University on the impact of Title I funds on the academic achievement of disadvantaged students concluded that despite 45 years of Title I investments and the sustained hard work of teachers "Title I has not accomplished its aspiration of closing the achievement gap and the U.S. public education system continues to fail to ensure that our most disadvantaged students have the opportunity and preparation to succeed in school and in life".
In order to deal with these problems the House version of the ESEA reauthorization offered a school choice-oriented solution through the enactment of "Title I portability," a provision that would allow states to make Title I funds "follow the child." Under this provision every school would get the same amount of per-pupil grants for every low-income child they enroll. Most importantly, portability of Title I funds would allow low-income students to bring their Title I funds to whatever public school they decide to enroll in. And this is key, because allowing Title I funds to "follow the child" empowers their families with the financial resources to explore other school options. This arrangement would also provide public schools with new incentives to compete with one another in order to attract students. The inclusion of Title I portability would have created a different education environment, one in which schools have the right incentives to innovate, be more efficient with the resources, and ultimately offer higher quality education. Furthermore, as Tyler Koteskey explains at The Hill, "portable Title I funding could even have been combined with expanding state voucher, tax-credit scholarship programs, and education savings accounts, with proven positive effects on achievement for disadvantaged students to give even more families access to better options."
Unfortunately, Title I portability seems to have fallen victim to political calculations by influential Washington lawmakers and special interest groups. The administration even threatened to veto the bill if Title I portability were included in the final version of the reauthorization. Although it might appear surprising to many—especially to the millions of low-income families in need of better public schools—such aversion to educational choice just shows the magnitude of the growing disconnect between Washington and American families. All around the country, school choice-oriented reforms based on the idea of making education funds "follow the child" are already being implemented. Today, there are 42 choice programs in 20 states plus Douglas County, CO, and Washington DC. In May, Nevada approved the first universal school choice program, which gives families access to up to 90 percent of the funds that would have been spent in public schools to enroll their child in the school of their choice. This growing movement is not motivated by politics, but it is mainly driven by results. As highlighted in a policy brief by Katie Furtick and Lisa Snell of the Reason Foundation, the vast majority of empirical studies of school choice systems that serve low income children have found that educational choice leads to positive results. Furthermore, according to a study by the Friedman Foundation for Education Choice, of studies that use a random-assignment method—the gold standard for research— eleven out of twelve find that choice improves student academic outcomes.
In the year 2012, there were around 12.1 million Hispanic students in our nation's elementary and secondary public schools. Of these, roughly 8.6 million (71 percent) were enrolled in schools receiving Title I funding. In comparison, only 31 percent of white students were in Title I schools in the same year. Given this disparity, the reauthorization missed a rare opportunity to reform how Title I funds are used by making choice the foundation for a more effective program, one that could have potentially benefited the majority of Hispanic children in the K-12 system. The ESEA reauthorization is an improvement from the previous law but it still fails to do what is necessary to improve our public schools: empower families.