LIBRE Releases third "Share the Dream" Video Highlighting a Tough Road to the American Dream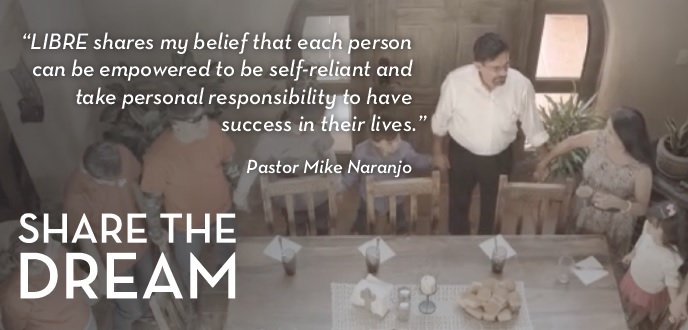 Lea versión en español aquí

LIBRE Releases third "Share the Dream" Video Highlighting a Tough Road to the American Dream
Pastor Mike Naranjo turned his old watering hole into a place of worship
(Washington D.C.) – The LIBRE Initiative, a national non-partisan and non-profit organization that provides U.S. Hispanic communities with the tools to prosper, released today the third installment of the four-part Share the Dream video series. Share the Dream is a multimedia campaign that features the stories of children of immigrants and the common thread that led them to succeed in the United States. The bilingual broadcast, digital and social media campaign, aims to inspire others to achieve the American Dream and embrace the principles that lead to prosperity in America.
This video features the life of Pastor Mike Naranjo of New Mexico, and the inspirational story of how he bounced back from austerity and ruin to follow the path that led him to his American Dream. Pastor Naranjo turned the bar where he used to frequent when he suffered from alcoholism and drug abuse, into a church that now offers hope and a new life to its members. The ad is scheduled to air in television stations in the following markets: Albuquerque, NM; Miami, FL; Phoenix, AZ; Las Vegas, NV; San Antonio, TX. View video.

Excerpts from the video:
"My father, he used to bartend at a little place, right by where I live. I remember standing up on the tables singing and they gave me quarters or money…and when I started growing up as a musician, playing different places, I began to drink. Drink quite a bit. I got involved in the drugs. That's a difficult time in my life. It spiraled down to, to suicide."
"One of the problems I see in my hometown is a growing dependence on government programs…you are going to find people just relying on what they can from government and their reliance on their own abilities, their creativity, the reliance on God- diminished."
"As a Pastor, I decided to partner with LIBRE. Faith leaders from across this nation are coming together behind The LIBRE Initiative to empower people in our congregations and communities. Because we're all fighting the same issues. The free market system allows us to succeed on our merits and serve others; this system is moral. Here we have a national organization where we can actually unite and change things in America for the better of our nation."
The final ad featuring the young immigrant success story of LIBRE's Field Director, Cesar Grajales, will be released January 20th. For more information on Share the Dream visit: joinlibre.org