The LIBRE Initiative Expands "The Accountability Project" to Texas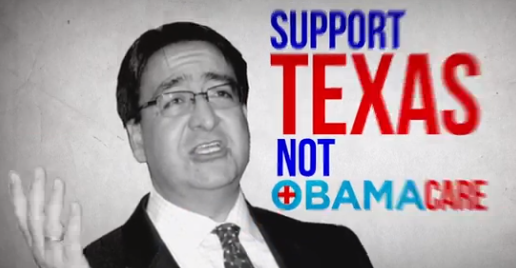 Lea versión en español aquí
The LIBRE Initiative Expands "The Accountability Project" to Texas
Bilingual Ads Point to Congressman Pete Gallego's Support of Flawed Obamacare Law
(Mission, Texas) – The LIBRE Initiative (LIBRE) released today the second series of campaign ads of "The Accountability Project," a national multimedia effort to call attention not only to the many problems with the Affordable Care Act (ACA) – referred to as Obamacare – but also the public officials behind it. The bilingual ads to run in southwest Texas, point to Congressman Pete Gallego [TX-23] for supporting Obamacare, which is causing families across the country to lose their current coverage, pay more for health care, and employers to cut employee work hours in order to comply with the mandates of this inflexible law.
The campaign that began in South Florida includes television, and radio as well as grassroots events in the Hispanic communities urging constituents to sign an online petition telling their Member of Congress to stop supporting Obamacare.
View the ad. Learn more at www.keepthemaccountable.net.
Jose Mallea, National Strategic Director of The LIBRE Initiative released the following statement:
"The Affordable Care Act is proving to be anything but 'affordable' for many Americans, but some public officials like Congressman Gallego continue to stand behind it even as people suffer. Millions are paying more, losing their current coverage – or worse – losing their full-time jobs because of Obamacare. Doctors don't know if they will still be able to serve their patients, or how they will comply with more and more onerous mandates. Rather than run for political cover, it's time for Congressman Gallego and other Washington politicians to admit to the serious problems of this law and work to find a patient-centered approach to healthcare reform. The Accountability Project calls on Texans to hold their public officials' feet to the fire for supporting a law that is doing more harm than good."
Transcript of ad:
People across the country are suffering…
Millions of Americans have lost their insurance plans because of Obamacare
But Pete Gallego supports it.
Hard-working families and the young will pay more because of Obamacare
But Pete Gallego supports it.
Hundreds of companies are cutting work hours to comply with the mandates of Obamacare
But Pete Gallego supports it.
Washington politicians don't know what we can afford.
Tell Congressman Gallego to support the people of Texas – not Obamacare.
Sign our petition at keepthemaccountable.net.
View other ads of "The Accountability Project" and learn more about LIBRE's efforts to hold elected officials accountable for supporting the flawed Obamacare law that is causing families everywhere to lose their current health care plan, and their full-time jobs. They are elected to make the right decisions for the people; let's keep them accountable because we just can't afford this costly law.
For interviews with a LIBRE representative, please contact: Judy Pino, 202-578-6434 or Ronald Najarro, 702-539-2541.