ILLINOIS RNHA Participates in Conference with Rachel Campos-Duffy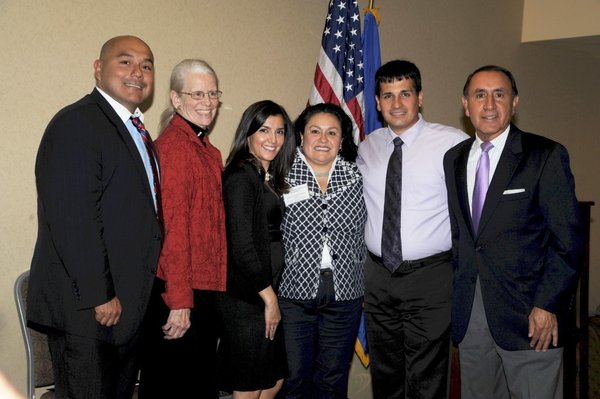 (Originally Published on the Chigaco Tribune)
ILLINOIS – Last Saturday, RNHA Illinois Chairman Steve Orlando and Chicago Young Republican President Angel Garcia were featured panelists at the Latino Voter Outreach Midwest Conference in St. Paul, Minnesota. The event was sponsored by the Hispanic Republican Assembly of Minnesota. The conference was keynoted by Rachel Campos-Duffy, an amazing Latina conservative. The mother of six is an author, TV personality, wife of Congressman Sean Duffy (R-WI), and spokesperson for the Libre Initiative, a group that honors the principles of economic freedom, self-reliance and a leaner, more efficient government.
Angel Garcia, Chicago Young Republicans President, summed up his thoughts, "Especially with the wake-up call we got after the 2012 election, I am optimistic that the national, state and local GOP organizations are working hard to earn the Latino vote."
In the audience were many Minnesota Republican elected officials and candidates running for State Assembly, Congress and U.S. Senate. RNHA Illinois Chairman Steve Orlando suggested, "If you begin your Hispanic outreach effort only 3 months before Election Day, don't expect results. Relationships take time to build, and we as Republicans need to consistently work with the Latino voter both in Election years and off-election years."
The day's activities concluded with remarks from Rachel Campos-Duffy. She eloquently described the real battle. "I am deeply troubled by the direction of our country. When the IRS spies on the Tea Party, and the DOJ spies on Fox News and the NSA spies on all of us, America's government is beginning to resemble the dysfunctional, corrupt governments Hispanics left behind." Campos-Duffy went on, "But what worries me most is the spirit-crushing cycle of dependency that's ensnaring so many Americans and tragically so many of our young people. In their zeal to help this Administration and the progressive activists who peddle their policies in Hispanic communities they are telling Hispanics that we cannot make it on our own. It's a self-serving message that guarantees we will need big government and benevolent community organizers and all the government programs to get through life."
RNHA Illinois congratulates Rick Aguilar and the Hispanic Republican Assembly of Minnesota for organizing such a worthwhile program. For more information about the Libre Initiative, go to http://www.thelibreinitiative.com/, and to get the latest updates of the RNHA Illinois, go to http://www.illinoisrnha.org/.
Group photo: Angel Garcia, Janet Beihoffer (MN GOP National Committeewoman), Rachel Campos-Duffy, Nancy Hernandez, Steve Orlando, Rick Aguilar