Arizona School Choice Expansion Halted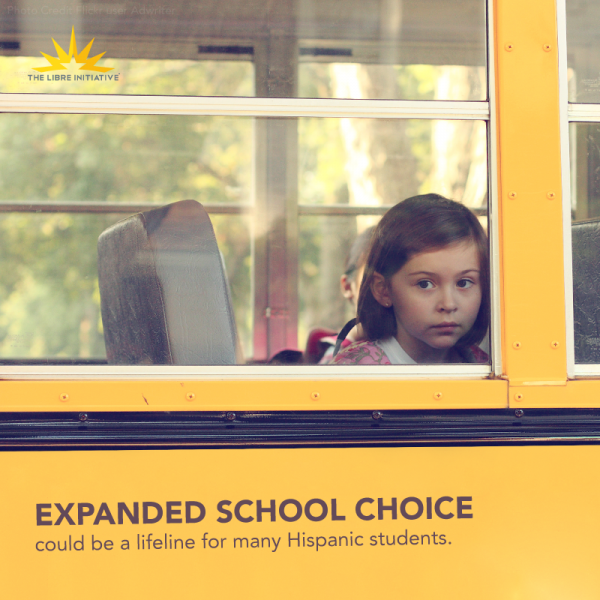 The Arizona House and Senate are going full steam ahead to pass a few last minute – albeit important – items in their last weeks of session.. As with many legislative sessions, education tends to be a focal point for lawmakers, and this time is no different. Unfortunately for Arizona Hispanics, a bill that would give public school students increased options now shows little hope of passing. Forty-four percent of students in Arizona are Hispanic. For any of those students who happen to attend one of the 180 underperforming schools in the state, this legislation just might be the lifeline they need.
Currently, only a limited number of students are eligible for Arizona's Empowerment Scholarship Account (ESA) program, the first education savings account program in the nation. The program began with only students with disabilities, but has expanded over the years to include students who attend a low-performing school, are children of military families, and those who live on a Native American reservation. As of now, nearly 2,500 students use this program out of the over 250,000 eligible students.
The Empowerment Scholarship Program currently allows parents a variety of options to use the funds for their child. In a recent report, 83 percent of the ESA funds were used to pay for private school tuition. Parents can also opt to spend the funds for educational products and services such as tutoring, where 7.1 percent of all money was spent. While parents are required to spend ESA funds on their child's education, they may choose a private school, homeschooling, educational services and tutoring, online classes and even textbooks. Instead of having to continue to attend a low-performing school, Arizona's ESA program allows students to thrive.
In this session, some lawmakers are seeking to expand the ESA program so that all students would be able to participate, which would allow for even more Arizona parents to find the school that better fits their child's needs. House Bill 2482 (or SB 1279 in the Senate) in the Arizona legislature would roll out the program's expansion over the course of three years in order to accomplish exactly that. The first phase applies to any child attending public school in the 2016-2017 school year from a kindergarten program or grades 1 through 5. The second phase will expand that further in the 2017-2018 school year for any child in a kindergarten program or grades 1 through 8. In 2018-2019, the program will expand to those grades 1 through 12.
Unfortunately, House Bill 2482 has been removed from consideration twice from floor debate within a week because it couldn't gather the 31 votes from House members needed to pass. The setback appears to signal that the bill has stalled due to criticism that the ESA program would remove funding from public schools. Some lawmakers argue that the program expansion would also affect Arizona Proposition 123, a ballot measure that would give public schools $3.5 billion in additional education funding over 10 years.
Just 70 percent of Hispanic students end up graduating in four years – compared to 85.17 of Asian students, 82.38 percent of White students — and a little over 4 percent of Hispanics end up dropping out, the second highest of any demographic. Improving educational outcomes for Hispanics remains an important issue. And with a median Arizona Hispanic income of just $20,000, it is difficult for many families to afford to send their child to a better school. For many low-income families, the only alternatives include long waitlists at charter school, which is sometimes too late.