Hispanics Are Strengthening Our Economy and Making Our Future Brighter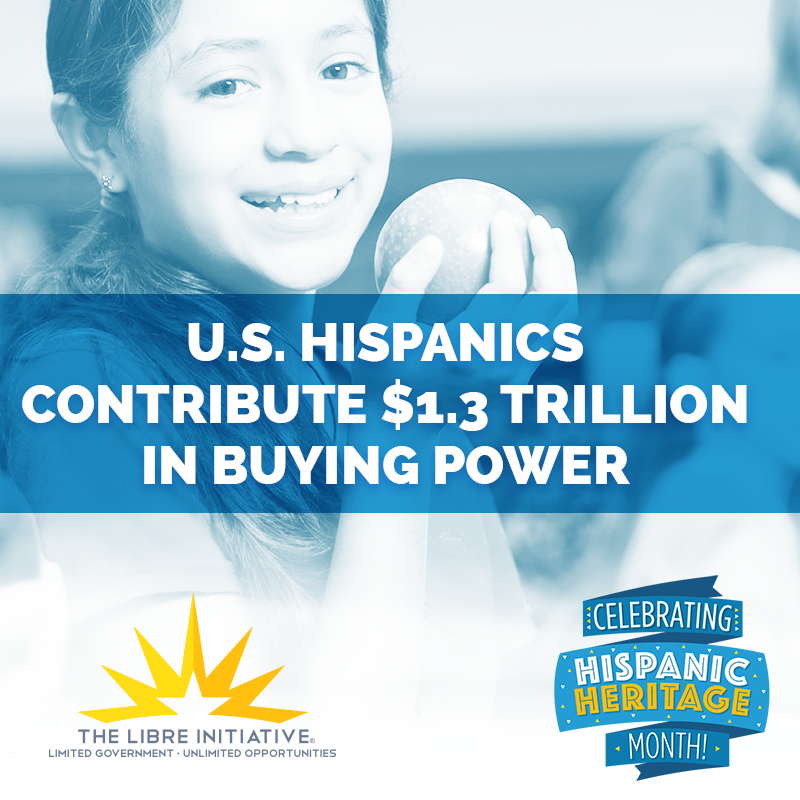 As Americans observe National Hispanic Heritage Month, our nation celebrates the many ways Hispanic Americans contribute to this country through their many accomplishments and rich cultural heritage. As once noted by President Reagan during Hispanic Heritage Week, "Hispanics are a vital element in fostering America's achievements in the arts and industry, in agriculture and education, in religion and business, in science and politics, and in every other aspect of American life." His words were as true in 1983 as they are today.
Take for example the economic growth driven by the Latino community. As highlighted in a recent report by Nera Consulting, "Making America Rich Again: The Latino Effect on Economic Growth," Latinos are responsible for 29 percent of the growth in real income since 2005, and account for roughly 10 cents of every dollar of U.S. national income. Even more impressive, as the report notes, that proportion is rising both due to growth in the Latino population and rising per capita earnings. Furthermore, according to the report, between 2007 and 2012 the number of Hispanic-owned firms increased by 46.3 percent, compared to a decline of 2.1 percent by non Hispanic-owned firms.
With this kind of growth, it's no surprise the Hispanic poverty rate is falling more rapidly than the rest of the population. In fact, the poverty rate of Hispanics fell by 2.2 points from 2014 to 2015 (from 23.6 percent to 21.4 percent in 2015) while the national average rate fell by 1.3 points.
This trend shows no signs of slowing down as the latest Census figures report that the poverty rate for Latinos continued to fall in 2016 – and now sits at just 19.4 percent. Notably, Hispanics made up 40 percent (996,00) of the 2.5 million people who escaped from poverty between 2015 and 2016.
The Latino contribution to our country's economic growth is likely to expand even more thanks to the relatively young age of the Latino workforce. The median age of Hispanics is only 28 year old, compared to 40 years old for Non-Hispanic Whites. And not only will their young age continue to grow the economy for everyone but it will also help with the structural challenges America faces due to its rapidly aging population. As the report explains:
"While much of the developed world is facing stagnant population growth and an increasingly elderly age distribution, growth in the Latino population is keeping America both young and growing. Between 1990 and 2015, the Latino population grew from 22 million to 57 million, roughly five times as fast as the population overall. To illustrate this rapid growth, consider that if the Latino population had grown at the same rate as the rest of the US, there would be 30 million fewer Americans today."
As Latinos' economic clout increases, so does their spending power. As consumers, Latinos possess roughly $1.3 trillion in buying power, and the number of affluent Hispanic households is growing much faster than for the overall population. So not only are Hispanics growing their own businesses, but they are supporting the rest of the populations businesses as well. And as the Nera Consulting report explains, in 2015 there were approximately 370,000 U.S. Latino households with incomes over $200,000, an increase of 187 percent since 2005.
As we celebrate National Hispanic Heritage month and recognize the many ways through which Latinos have contributed to strengthening the fabric of this nation, let's also celebrate the fact that Latinos are contributing to making our economy stronger and more prosperous for the benefit of everyone.