Government Shouldn't Play Superhero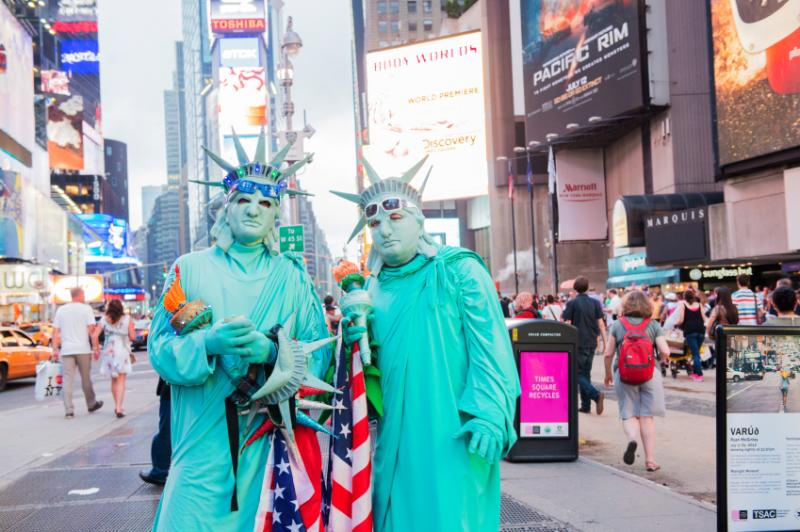 (This article was originally published in Forbes)
Recent reports of physical altercations and copyright infringements involving street performers in Times Square have prompted New York City's mayor and council to push for new regulations and licensing requirements on these struggling performers. The problem, however, is the crime and not the costume. Ironically, the idea that the government can swoop in and make it all better by imposing licensing requirements is the make-believe part of this developing story.
The news broke earlier this month that the New York City Councilis considering legislation that would require the beloved costumed performers in Times Square to obtain a government license before being allowed to work. While the details of the bill are not yet public, licenses and permits of this sort often place a substantial financial cost on the worker — not just from fees at the outset, but also hefty fines for not complying. Historically, no such license has been required for the costumed performers in NYC, but the move comes in reaction to a few isolated incidents in which performers have harassed tourists.
But it is already illegal to harass, intimidate, assault, or grope others – license or not. Costumed performers that commit crimes should be (and have been) arrested. Period. And the New York Police Commissioner, a supporter of the bill, admits that there are already 50 officers patrolling the area at any given time, and that crime in Times Square is actually down a whopping 80% compared to last year. Commissioner Bratton told the NY Daily News, "It's probably the safest place in the world …The tourists seem to enjoy (the costumed characters) quite a bit."
If the stated goal of public safety is already achieved without requiring a license, why then go after Hello Kitty and Big Bird? That reason remains unclear. What is clear, however, is that licensing this profession is a burden that unfortunately targets Hispanics, who make up the majority of the performers according to a 2014 New York Times exposé.
The Times article details how Joana Toro, a Colombian native, started performing to earn a little extra money while studying English. Clicking through the article, one learns of Berta, a 55-year-old woman from Mexico who repairs her Minnie Mouse costume by hand. Since beginning her work in Times Square 15 years ago, she has collected over 10 different costumes, and has put her two sons through college off her earnings from this work. There is also a gentleman named Carlos and his wife, who proudly display portraits of themselves in character, as well as a photograph of several Latin American immigrants changing into character at the 42nd Street subway station in Times Square. These examples are a just a few of many that represent the American Dream playing out in the most public of ways.
The freedom and flexibility of working as a costumed performer is what attracted most of these Latin American immigrants to the job in the first place. From the Timesarticle: "Many of the performers come from Passaic, N.J., and include a large number of Mexican and Peruvian immigrants. They commute to Manhattan by bus and change wherever they can, often in subway stations." Some explained that the work is great because it is not necessary to have perfect English; others liked the instant fame of portraying figures from American pop culture; still others liked the flexibility and excitement of easily changing from one character to the next.
Whatever their unique reason, what most have in common is the desire to work hard and simply earn a living. It seems harmless enough to require a license, but a look at other regulated industries illustrates the slippery slope of this first step (for example, taxis, food trucks, or cosmetologists). Whatever form the new regulations take, it is nonetheless an added burden on the shoulders of those struggling to climb the economic ladder. Numerous studies show that occupational licensing laws disproportionately impact minorities and Hispanics. Given today's poor job market, the government should be looking for ways to scale back these obstacles, not add more. Rather than pretend to play hero, perhaps the NYC council should rely on current avenues of enforcement that have already been addressing the incidents without stripping these individuals of economic opportunity. Even Superman knew when to put away the cape.
Carli Dimino is a Policy Analyst at The LIBRE Initiative, a non-partisan organization that advances wellbeing in the Hispanic community. Follow her on Twitter: @cdimino.