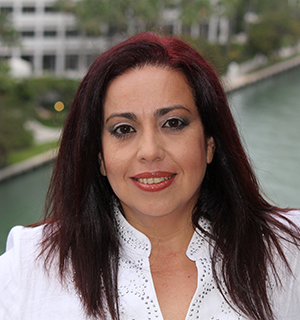 Contact Info
Email: jrivero@belibre.org
Janisset Rivero
Manager of Institute
Janisset Rivero was born in Cuba and being a teenager exiled in Venezuela with his parents and sister. Graduated in Communications and Advertising in Caracas, arrived to Miami in 1990. She graduated from Florida International University with a Bachelor of Arts in Spanish and a Master of Arts in Spanish, years later.
She is being recognized as an important Cuban human rights activist in the South Florida community.  As an Executive Director of Cuban Democratic Directorate she represented Cuban struggle for freedom and democracy at UN's Human Rights Council in Geneva and at OAS's Inter American Commission for Human Rights in Washington, DC in numerous occasions.
Her Op-eds have been published in Venezuela, Puerto Rico and US newspapers. She is also a published author of two testimonials poetry books and a novel.
On October, 2014 she was recognized by the City of Boston for her activities in favor of democracy and human rights in Cuba, also on March 2013, the US Congress recognized her efforts.
She worked as South Florida Field Director for The LIBRE Initiative and as a Grassroots Trainer and Curriculum Specialist for Grassroots Leadership Academy (GLA) at Americans for Prosperity Foundation and leads the GLA Hispanic Outreach Program.
Janisset Rivero is Manager for The LIBRE Institute.