Wisconsin Ranks Dead Last in Startup Activity for Second Year in a Row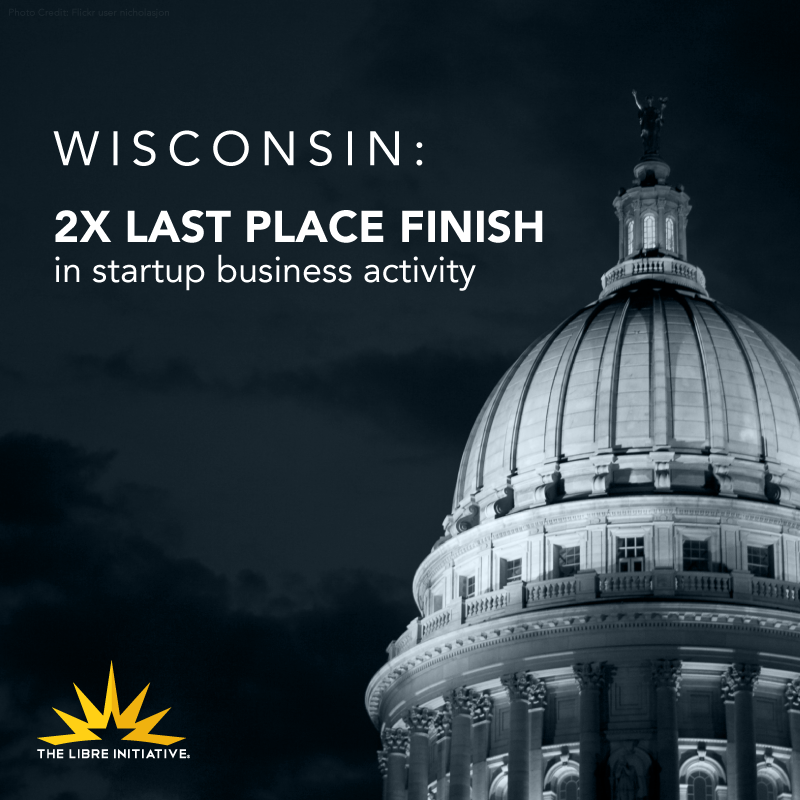 For the second year in a row, Wisconsin has come in dead last in a ranking of startup business activity in the fifty states. The poor showing comes amid some positive economic conditions in the Badger State, but underscores the damage that big government, tax and spend economic policies, and cronyism can do to the Wisconsin economy. For U.S. Hispanics, who lead the nation in new business startups, these numbers are alarming. In order to safeguard our financial future, it is vital that leaders in both Madison and Washington are prepared to rein in spending, lower taxes and regulations, and tackle the barriers to opportunity that are contributing to the decline of entrepreneurship in America. The report, recently released by the Ewing Marion Kauffman Foundation, ranked states according to their respective rates of new entrepreneurs, startup density, and opportunity share – a measure indicating the percentage of new entrepreneurs who were previously unemployed, rather than working. Among the 25 largest states, Wisconsin ranked last or second-to-last in each of the three categories under consideration. Unsurprisingly, leaders in Madison took issue with the ranking.
"It's important to note that the Kauffman study looks at one factor — start-up activity — and ignores other key indicators of start-up success, including wages, employment and most importantly, the long-term success of start-ups in each state," Gov. Scott Walker's office explained.
Those certainly are good numbers, and they shouldn't be brushed aside. But whether policymakers in Madison agree with the report or not, they don't appear to understand how to tackle the problem. According to Kathleen Gallagher of the Milwaukee Journal Sentinel, Wisconsin leaders are considering a $4.5 million spending program to try to stimulate entrepreneurship, including a tax credit for investors in selected businesses, a micro-grant program to funnel federal dollars to tech startups, an entrepreneurial training program at the University of Wisconsin, as well as seed grant and accelerator programs. According to Elliot Gaiser of the Daily Signal, higher government spending doesn't help entrepreneurship – it hurts it:
"One reason high debt harms growth is that government spending crowds out private investment and impedes entrepreneurship. When the federal government spends more money than it takes in, it issues debt, which shows up as deficits. Both foreign governments and private investors purchase this federal debt, which means money that could have gone to investing in new businesses pays for government spending instead."
Entrepreneurial stagnation in Wisconsin notwithstanding, the Hispanic community plays a critical role in the nation's business growth. From 2007 to 2012, the number of non-Hispanic businesses with paid employees remained about the same, increasing only by 0.2 percent over the five year period. For Hispanics, on the other hand, the growth was dramatic. The number of Hispanic-owned businesses with paid employees increased by 17.1 percent over the same time frame, increasing from less than 250,000 in 2007 to nearly 300,000 in 2012. In 2015, Hispanic-owned businesses overall contribute an estimated $661 billion to the U.S. economy, an increase of 88 percent since 2007.
It's certainly possible to boost entrepreneurship in the Badger State, but not by simply throwing money at the problem. Even after hundreds of billions of dollars in federal stimulus spending during the recession, the U.S. economy struggled on at an anemic pace. What failed at the federal level is no more likely to succeed at the state level. Policymakers in Madison should reexamine their approach. Government
spending is already out of control, and adding more fuel to the fire only edges our country closer to bankruptcy. In order to responsibly improve conditions for entrepreneurs and startup businesses, the key is to limit regulations, lower taxes, and rein in government spending that sucks up scarce capital so badly needed by new ventures. Our financial future depends on it.