Why Glenn Youngkin is the clear choice for Virginia's Hispanics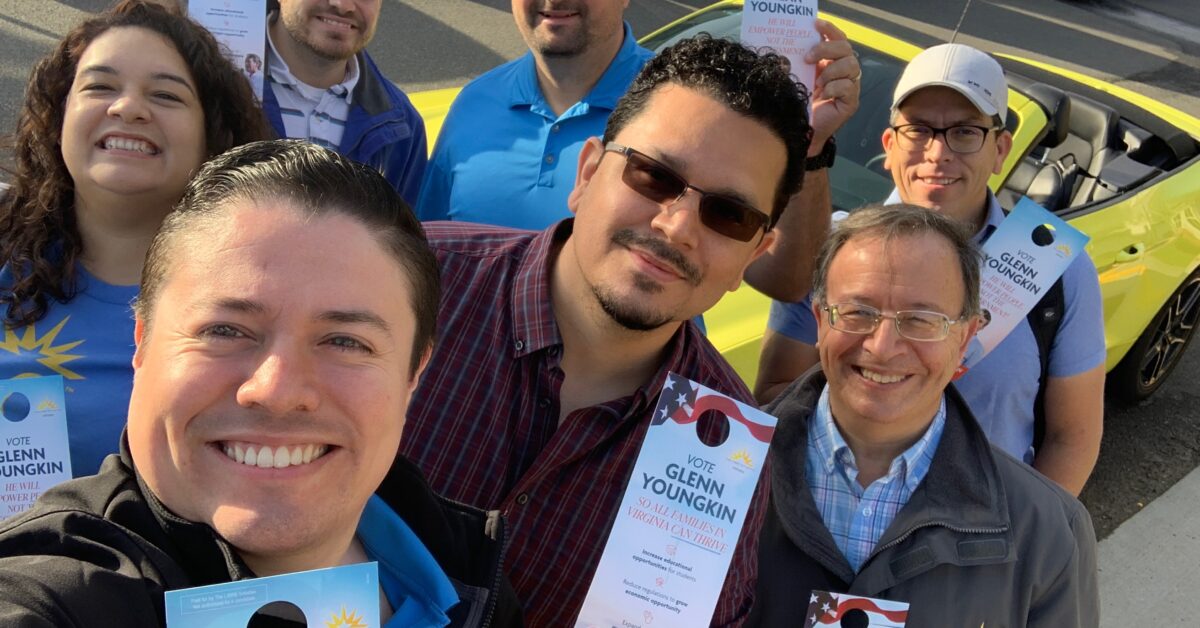 When former Governor Terry McAuliffe declared during a debate that parents should not "be telling schools what they should teach," he perfectly captured the difference between himself and his rival in the 2021 contest for Virginia governor, Glenn Youngkin.
Youngkin believes strongly that Hispanic parents, and every Virginia parent, should have a much larger say in their children's education.
There are few issues on which Youngkin shows more passion and a desire to see reform than education policy. As a father of four, he knows every child is unique, and he supports an individualized approach to education based on that truth. He is a staunch supporter of expanding educational opportunities, including education savings accounts, charter schools, and other options for families.
That is the polar opposite of his opponent's one-size-fits-all approach.
But my organization, The LIBRE Initiative, is endorsing Youngkin for governor not because of what McAuliffe thinks, but because of who Youngkin is, and what he can achieve for the people of Virginia. Because beyond education policy, he puts faith in the people of Virginia to know what is best for themselves and their families.
When we endorse candidates for any office, we look for policy champions who will empower the Hispanic community with greater opportunity.
We know how crucial it is to have elected officials who listen to our concerns and engage with us on the issues that matter most to us – education, health care, and the economy.
We know it's not enough to simply talk the talk and cast the right votes. Candidates who win our support need to show that they are leaders on these critical issues, willing to resist the status quo, to spend political capital to achieve great things.
That's what we see in Glenn Youngkin.
Like many of the roughly 800,000 Latinos in Virginia, he is an entrepreneur and a family man. He understands the consequences of bad government policies that make it more difficult to earn a living, that drive up prices, and that erect barriers to economic and educational opportunity.
Youngkin knows that the primary concern of Latinos in Virginia, as it is for most families, is putting food on the table, providing for their loved ones, and dealing with the rising cost of everyday goods and services like food, gas, and school supplies.
As a successful businessman, Youngkin knows that excessive regulation can stifle job creation. He understands that high taxes inhibit economic growth and take money out of the pockets of people who are tightening their belts to deal with inflation. He's committed to defending independent contractors, who deserve to earn a living the way they choose, not the way government dictates.
And he is dedicated to ensuring that Virginia families have access to quality, affordable health care, by repealing certificate-of-public-need laws that limit competition and restrict new facilities, expanding the availability of telehealth, and promoting other innovative options.
Latinos make up 9.6 percent of Virginia's population, a 22 percent increase over the past two decades. That population is increasingly diverse.
But right now, wherever your family came from and however long you've been here, Washington is making life harder to provide for our families, with wasteful spending that is driving inflation higher and loading our children down with debt. All the while, as the challenges we face grow greater, too many elected officials are ignoring the real problems. We can't afford more of the same in Richmond.
Although you couldn't necessarily tell it by watching political ads on TV, Donald Trump is not running for governor of Virginia. The race is between Glenn Youngkin and Terry McAuliffe. In that contest, Glenn Youngkin is the clear choice for Virginia's Hispanics.
Michael Monrroy is coalitions director for The LIBRE Initiative-Virginia.