When it Comes to Post-recession Housing, Space is Needed for both Baby and Grandma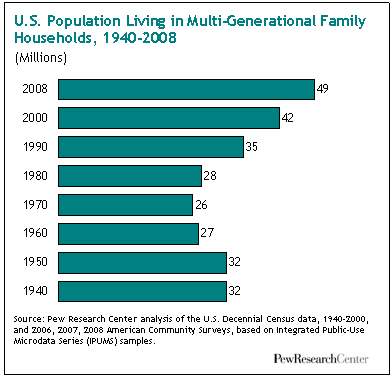 When a recession lingers for so long that a fundamental change in the purchasing patterns of the middle-class occurs – one that goes beyond simply cutting back on life's little luxuries – it is a huge cause for concern. The uncertain future of an already weak economy is driving a new, growing demand among middle-class Baby Boomers for homes that accommodate three or more generations, known as multigenerational households.
While there are several factors contributing to this shift – among them longer life expectancies, women entering the workforce, marriages that occur later in life, immigration, the housing crisis – the largest driver is a long-term recession. The new inclination towards larger dwellings is not because families want to adjust, but rather because they have to. As the economic recovery stalls, as college graduates still can't find work and must move back with their parents, and as senior citizens struggle with burdensome healthcare costs and other limitations that may come with age, middle-class couples who are ready to hit retirement have been responding by opening their doors. These families, looking for a better alternative to simply crowding into an existing space to save money, have created a demand for new multigenerational dwellings.
Homebuilders have been quick to respond. D.R. Horton now offers HomeShare, which is an interactive tool that allows multigenerational families to communicate their living needs through customized floor plans. These floor plans geared towards larger families typically have fully functional second living areas with interior access to the main home. Lennar Corporation, one of the largest homebuilders in the U.S., is also capitalizing on the trend that has roots in the recession. Lennar offers NextGen, which is marketed as a "home within a home" and is suited for multigenerational families with a second private living space. The residential construction company Pulte Homes also offers floor plans that have second master bedrooms on the first floor, which are geared towards grandparents.
The demand for multigenerational homes shows little signs of stopping. A 2012 survey by homebuilder PulteGroup found that twice as many households expect to eventually share their home with their adult children or aging parents to save funds; 31% anticipate at least one adult child moving back home, and 32% anticipate an aging parent living with them. A sizeable 36% of Millennials – the current generation of young adults age 18-31 – are still living in their parents' homes, which is the highest percentage in the last four decades. And this shift is even more marked in the Hispanic community according to Pew Research Center. In the United States, 22% of Hispanics live in multigenerational homes, in contrast with 13% of non-Hispanics. This suggests that external factors pushing the change – from cultural preferences to impacts from the recession – are disproportionately affected the Hispanic community.
Middle-class families continue to adapt to external economic realities and changing circumstances, and thankfully, homebuilders have been quick to respond to the new needs of multigenerational consumers. The changing preference is not necessarily negative, of course, if families are freely choosing to do so. Hopefully as the economy strengthens, this choice will no longer be made in response to economic hardship but rather to strengthening the family.