Victory against Cronyism in San Antonio – An Update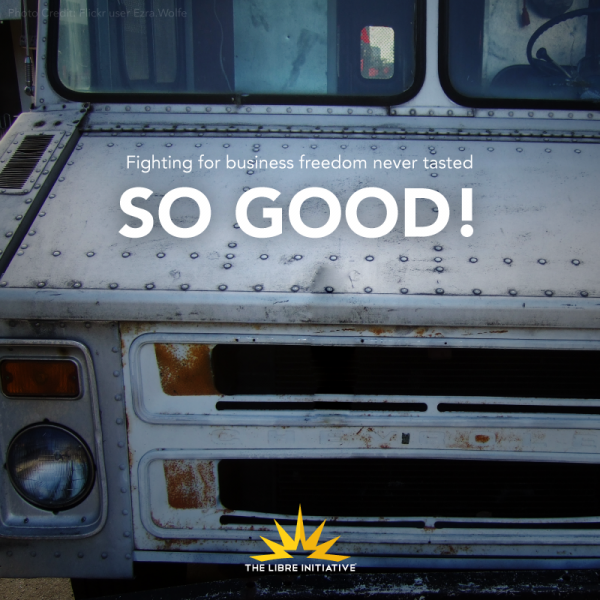 Following a lawsuit filed by the Institute for Justice (IJ) on behalf of four Hispanic food truck owners against the city of San Antonio, the city council voted at the end of November to repeal a controversial ordinance that strictly limited where food trucks were allowed to do business.
The plaintiffs argued that the regulation, which barred food trucks from operating within 300 feet of a brick and mortar restaurant without written permission from the owner, violated their right to economic freedom under the Texas Constitution. In a ruling in another case brought by the Institute for Justice this summer, the Texas Supreme Court made clear that the Texas Constitution provides greater protection to economic liberty than the U.S. Constitution, and that review of economic regulation must be meaningful, robust protection for economic liberty.
"This is a big win, not just for food-truck entrepreneurs in San Antonio, but for street vendors throughout Texas and the rest of the country who face similar unconstitutional restrictions on their right to earn an honest living. Today's victory shows that when street vendors take a stand and fight for that right, they can—and should—prevail," said Bert Gall, an IJ senior attorney who directs IJ's National Street Vending Initiative.
The decision was met with satisfaction from the plaintiffs in the case, such as Ricardo Quintanilla, who operates the Tacos el Regio food truck.
"I am glad that our lawsuit forced the city to do the right thing," Quintanilla remarked after the city's decision. "I am happy that I can now focus on running my business instead of worrying about getting shut down if a restaurant opens nearby."
As The LIBRE Initiative reported last month, getting shut down was not the only threat this regulation posed to San Antonio's food trucks. In fact, the problem faced by the Tacos el Regio truck was arguably a more complex form of cronyism.
"[N]ot all food truck owners face simple bans. Some manage to obtain written permission from their competitors, but it may come at a cost. In some cases, owners of nearby brick and mortar restaurants only agree to grant written permission in exchange for a fee, which may be too much for a small startup business to afford. For Ricardo Quintanilla, another plaintiff in the suit, the situation quickly developed into a racket.
"We are being extorted to be able to operate," says Quintanilla, who is forced to pay $400 every month to one of his competitors in order to keep his food truck in operation. While supporting oneself and one's family as an entrepreneur is difficult enough in the midst of such a weak economic recovery, these additional fees can make earning an honest living impossible."
In a free market economy, businesses should not be able to use the power of the law to restrict competition. That's cronyism. The experience of these food truck vendors was a textbook example of why that should be the case. For Ricardo Quintanilla and the other plaintiffs represented in the Institute for Justice lawsuit, this was about more than just economic theory; this was about their livelihood. We need to remove barriers that prohibit entrepreneurs like these from earning an honest living. It is good to see that the city council members in this instance were willing to pay attention.