Survey Shows Over a Quarter of Nevada Union Households Unaware of Right to Opt Out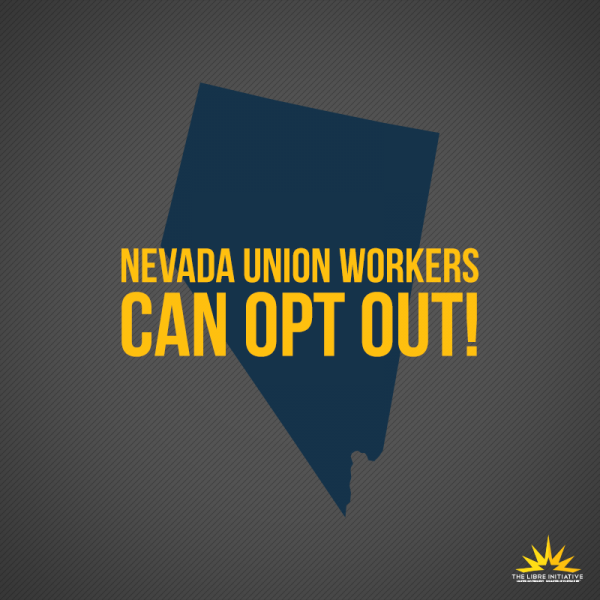 By 2020, U.S. Hispanics are projected to comprise nearly 1/5 of the labor force. As a vital and growing force within the economy, how Latinos interact with labor unions will likely have an impact on future changes in the employer-employee dynamic. Over one quarter of union households in Nevada are unaware that they are free to opt-out of union membership without being penalized, according to a survey released by the Nevada Policy Research Institute (NPRI). Though the state of Nevada is a right-to-work state, meaning workers there have the right to join or leave a union without force or penalty, awareness of this law has been slow to spread.
When membership is voluntary, unions can be a good thing. In a free market, an individual worker negotiates the contract of their employment, until the employer and employee reach an agreement that benefits both of them. When all of the workers in a business do the same, the same principle often applies. By the same token, if the union fails to serve the interests of its customers, its customers can vote with their feet and leave. Twenty-five states have right to work laws, guaranteeing workers precisely this freedom.
Union membership has been in decline across the nation for decades, and Hispanics currently lead the nation in this respect. Only 9.2 percent of Hispanics workers in the United States are members of a union, compared to 13.2 percent of blacks, 10.9 percent of whites, and 10.4 percent for Asians.
However, according to NPRI, these survey results show that there is significant distance left to travel for right to work supporters in Nevada.
"These survey results show that there are over 45,000 union members in Nevada who don't know they can opt out of union membership, even though Nevada is a right-to-work state," said Victor Joecks, executive vice president of NPRI. "These results show why NPRI has needed to work for the last four years to help over 2,000 teachers and school district employees opt out of union membership."
The implications of this poll are serious, as underscored by a recent article at Watchdog Arena:
In Nevada, 14.4 percent of all employed wage and salary workers were union members, according to the most recent data from the Bureau of Labor Statistics, which is more than 39 other states and the District of Columbia. This is a relatively high figure, but is part of a nationwide trend away from big labor. Union membership rates fell in 27 states last year, just as union membership rates have fallen all over the nation. Union membership has fallen from around a third of all workers in the 1960's to around one in ten today.
Despite this decline, unions continue to account for a staggering amount of political donations in American elections. Out of the top ten organizations listed at Open Secrets' ranking of political contributors, six are labor unions.
However, the decline in union power is far from over; large numbers of workers are willing to walk away from the unions, but are unaware that they can. In a similar poll in 2013, NPRI asked survey participants: "If it were possible to opt out of membership in a labor union without losing your job or any other penalty, would you do it?"
The poll found that almost a third, 31.1 percent, of union households said they would.
Contrasted with the share of union households who were unaware that they were able to leave their unions without a penalty, the number of workers who are willing to do so is striking.
NPRI found that with the average union dues of roughly $750 a year; the tens of thousands of union members who don't know that they can opt out of membership account for over $35 million in union funding. Given that many of these members, as the poll shows, would cancel their dues if they could, union officials should be worried.
When union membership is voluntary, unions have to compete for members by serving their interests the best they can. At a time when huge amounts of union money are funneled into elections and political campaigns that many workers do not support, Hispanics in Nevada need to be informed of their right to leave their unions, so that they can exercise their right to choose. According to this survey, union leaders that pursue divisive political agendas instead of respecting their customers can expect only one thing: their members will vote with their feet and leave.