School choice will help Texas Hispanics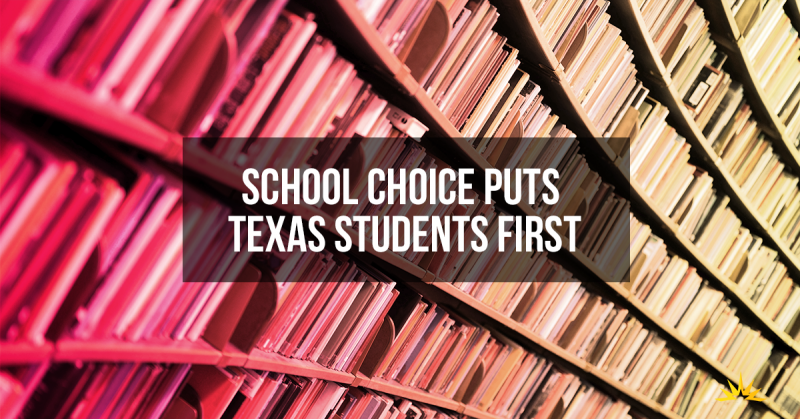 (This article was originally published in San Antonio Express-News)
Despite popular support among families, the Legislature missed a critical opportunity this year to pass meaningful legislation to expand school choice in Texas.
Just months ago a crowd of thousands of families, teachers, students and elected officials attended a National School Choice rally on the south steps of the Texas Capitol. They came from all over the state, and from different backgrounds, to send the message that the time for school choice in Texas is now.
Additionally, in just six weeks, the LIBRE Initiative has collected thousands of petitions in support of school choice from Hispanic families across the state.
However, several pieces of legislation that would have given Hispanic families in Texas more options for quality education were left pending in both the House and Senate as the legislative session expired.
That's a shame, and we must do better to guarantee the best future for our children.
Today, if you live in Texas, your children have four options: attend their assigned public school, join the hundreds of thousands of students on waiting lists for public charter schools, home-school or, if you can afford it, private school. For many low- to middle-income families, the last alternative is out of reach, and long waiting lists for open-enrollment charter schools mean more waiting than learning for too many students.
This is a tragedy and it must be reformed.
One problem with the current education system is that failing schools continue to receive money from the state of Texas whether they are meeting the accountability rating system or not. There are more than 146,000 students in nearly 300 failing schools that have not met standards for more than two consecutive years. Hispanic students in particular are hurting, as they make up the majority of students in the Texas public school system.
While calls for more funding may be well intentioned, this simply props up these poorly performing schools without addressing the root cause or proposing a real solution. In such a system, where is the incentive to improve?
School choice is that solution. It puts the focus of education spending back where it belongs "" on the child. Real education reform puts power in the hands of parents. By allowing the dollars to follow children to the school of their choice, schools are more likely to be innovative, and go beyond average expectations. As a result, schools will gain access to more students and more funding. Along with schools, students "" especially minority students "" will win by receiving a better education.
Studies show that school choice has the greatest impact on English language learners, or ELLs, and economically disadvantaged students. Across 27 states, Hispanics who are ELL or who are living in poverty make larger gains in open-enrollment charter schools than in traditional public schools.
As Texans, we want the best for our children. As taxpayers, we want to see funds used effectively. Unfortunately, Texas is not the leader in education because we have failed to incorporate the benefits of choice into our education system.
That's why I authored "" and was proud to have the support of reformers such as the LIBRE Initiative "" school choice legislation to create tax credit scholarships and a taxpayer savings grant program to deliver more educational opportunities for our families.
With both bills, everybody wins: Children can meet their full potential, parents benefit by gaining greater opportunities for their children, teachers have the potential to earn greater pay, and taxpayers benefit through savings in tax dollars. As schools improve to meet the demands of families, we all gain a stronger workforce, earn better wages and experience a higher standard of living. Prosperity goes up, and generational poverty goes down.
As a state that takes much pride in our culture, it is unfortunate that we keep coming up short on education. Disparities that seem to occur from neighborhood to neighborhood have failed to improve over the past three decades, and will continue to deteriorate without a commitment to more options and equal access to the best schools.
For Texas to continue to lead in job creation, we must start by expanding school choice. More options for high quality education ensure that Texas will one day lead the nation in education. Every step toward education reform is a step in the right direction, but we have to make sure we take those first steps, and soon.
The time for school choice in Texas is now, but sadly, parents and children must wait until 2017 for the chance to have a bigger say in their future.