School Choice, Charter Schools Help Give English Language Learners the Tools for Success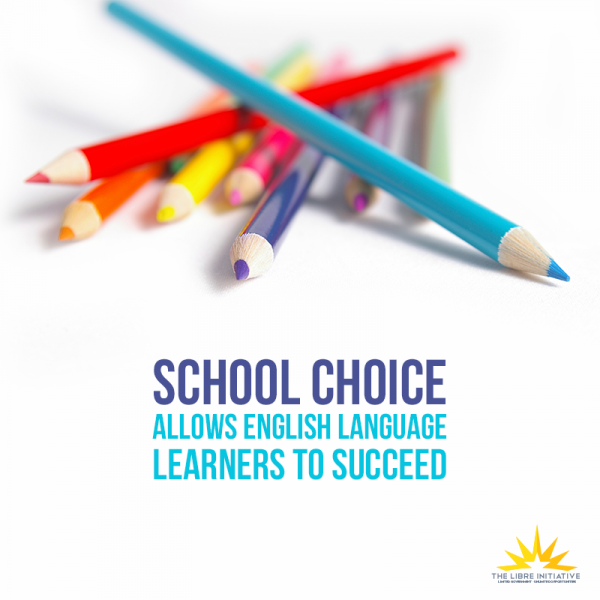 It's that time of year again. During "Back to School" season, many children in the U.S. are nervous about doing well in new classes, meeting new teachers, and seeing old friends again. However, a small but significant subset of students has an additional worry to add to the list – whether or not they will be able to speak English well enough to understand their coursework and to succeed in the classroom. English-learning students and their parents know that English proficiency is crucial for success in both the classroom and the future job market, and it is important that our children are able to access the kind of schools that adequately prepare them for the challenges ahead by efficiently teaching this necessary skill
As of the 2012-2013 school year, there were almost 4.4 million public school students that participated in programs for English Language Learners (ELL students). The programs to help ELL students, named ESL (English as a Second Language) programs, exist in all types of schools across America to help non-native speakers improve their listening comprehension, speaking proficiency, reading abilities, and writing skills in English, as well as to help students maintain grade level status, and to eventually help them graduate with English proficiency. ESL programs aim to assist students whose parents want them to learn English but are not English speakers themselves. A new report from Pew Research Center notes that over 87% of U.S. Hispanics agree that Hispanic immigrants need to learn to speak English in order to be able to succeed in the U.S. This increased desire to learn English is reflected in the numbers – as of 2013, over 33.2 million (68%) of Hispanics in the U.S. are reported to have attained English proficiency, up from 20.7 million (59%) in 2000.
When a household does not speak English at home, it often falls to the child's school to teach them this necessary skill. Unfortunately, many of the states with the largest ELL student population also have some of the weakest public school systems. Nevada, Arizona, and California all have large amounts of ELL students, and a recent study places all three in the 10 worst states for public education. In the same study, Arizona, Nevada, and California also all ranked in the 5 worst states for pupil-to-teacher ratios, which can have a larger-than-average impact on ELL students. Students learning a second language need greater attention and personalized instruction in order to succeed, and many of our state's public school systems are failing to provide for their needs.
However, in many states, school choice programs are allowing ELL students access to schools that have a strong record of success. Of particular note are the school choice programs implemented in Arizona and Nevada in order to provide an alternative to their suffering public schools. Charter schools, for example, are stepping up and are doing a better job of educating English language learners. Nationally, charter schools have been shown to provide an average of 43 additional days of learning to ELL students. In certain states, like Texas, ELL students in charter schools receive 50 more days of learning in reading, and 22 additional days in math as compared with their peers enrolled in traditional public schools. If an ELL student wants to further customize their education beyond what a charter school can offer, states like Arizona, Nevada, and Florida have Education Savings Accounts, in which qualifying students and parents can have a chance to choose whatever education plan is best for them, instead of being limited based upon their zip code.
U.S. Hispanics want to learn English not only to better their own lives, but also to better the lives of those around them. Our nation's children should have the opportunity to pursue their own American Dream, and it is up to our schools to give them the tools for success. Allowing English Language Learners the option of school choice will be a step in the right direction towards bridging the language-learning achievement gap, and will help lead them down the road towards future success in the workforce.