Obama bypasses Congress, announces climate change action plan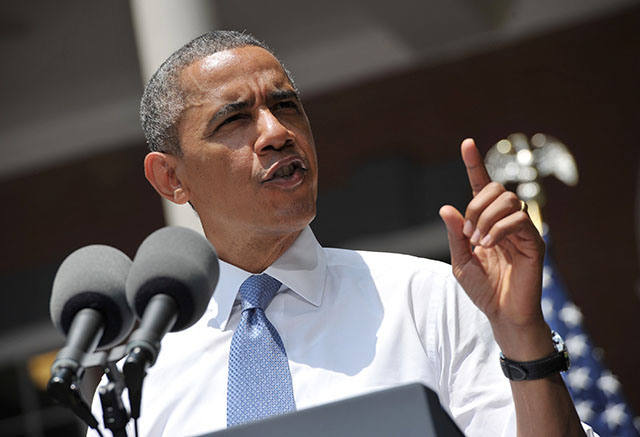 Bypassing Congressional action, President Barack Obama announced today he will be signing an executive order to take action against climate change.
"The question now is whether we will have the courage to act before it's too late," President Obama said. "And how we answer will have a profound impact on the world we leave behind, not just to you, but to your children and your grandchildren. As a president, as a father and as an American, I'm here to say, we need to act."
President Obama said he will propose limits on carbon emissions by carbon plants. He said in his speech up to 40 percent of emissions come from existing power plants and his plan will put in place new standards to reduce those emissions a year from now. Obama said he would consider the Keystone XL Pipeline if there are minimal carbon emissions.
"Allowing the Keystone [XL] pipeline to be built requires a finding that doing so would be in our nation's interests," Obama said. "Our national interest would be served only if this project does not significantly exacerbate the problem of carbon pollution."
President Obama's announcement to bypass Congress and push for this legislation was swiftly criticized today by Daniel Garza, the Executive Director of the Libre Initiative, a center-right organization which supports free market principles and limited government. Garza says the regulations will make Americans and small businesses pay for a problem for which the rest of the world is complicit.
"The President, predictably, when he can't get things done, is sidestepping Congress to push his prerogative with no regard to what it would do to jobs in America," Garza says. Basically what this would do is presumably combat climate change, but it imposes more regulation; it would result in higher energy prices, and no job creation, which comes at the worst possible time," Garza adds. "This regulation would impact small business, which is particular interest in the Hispanic community."
Florida Republican Congresswoman Ileana Ros-Lehtinen responded to the President's speech by stating that "it's not fair when hardworking taxpayers are burdened with new regulations, higher energy costs, and an ineffective, top-down energy plan because of the status quo in Washington."
A Latino Decisions/Voces Verdes poll surveyed 600 Latinos around the U.S. and found that 84 percent favor EPA safeguards to cut air pollution. And according to a 2011 survey by the Natural Resources Defense Council (NRDC), so many Hispanics support climate protection legislation because, "Nearly one out of every two Latinos lives in the country's top 25 most ozone-polluted cities."
"One important fact is found on the recent survey that showed that 86 percent of Latinos nationwide supported the President taking action to control the pollution that causes climate change," said Adrianna Quintero, the founder of Voces Verdes. "One can easily infer that the majority of Latinos will be extremely supportive of the proposal today."
Quintero said by lowering carbon emissions, which will help improve the health of thousands of people who work outside in construction, landscaping, and agriculture. The NRDC also found that Hispanic children are 60 percent more likely to have asthma, as compared to non-Hispanic whites.
"It's the difference between facing the worst impacts of climate change or not," Quintero said. "Add to that there is an emphasis on renewable [energy] and on making sure this echoes internationally, which is so important to so many Hispanics who still have family living through the worst impacts of climate in their home countries. This is a is a huge bright spot for the Latino community."
After the President's speech today, Arizona Democratic Congressman Raúl Grijalva said "today's speech is what leading the way really looks like." While Grijalva opposes the Keystone Pipeline project, the top Democrat on the Public Lands and Environmental Regulations Subcommittee stated Obama's annnouncement calling for an end public financing for new coal plants as an example of a workable "uncontroversial" goal.