New Mailers Encourage Lawmakers to Protect Dreamers
(Washington D.C.) – Today, The LIBRE Initiative announced the release of mailers encouraging Republican and Democratic lawmakers to support a plan that would provide a permanent solution for Dreamers and improvements to our nation's border security.
This mailer is part of a seven-figure campaign effort by The LIBRE Initiative, which includes thank you mailers, national TV ads, digital ads, Capitol Hill advocacy, grassroots mobilization, and educational components in favor of a permanent solution. LIBRE is calling on all Members of Congress to come together and take action on a permanent, bipartisan solution that would provide certainty for Dreamers and improvements to strengthen our border.
Daniel Garza, President of The LIBRE Initiative, released the following statement:
"Americans across the nation are eager for Congress and The White House to demonstrate leadership and take action to bring certainty to Dreamers and security to the border. For far too long, our elected officials have continued to delay action on these important issues impacting our families and communities. Both Democrats and Republicans are responsible for reaching a permanent legislative solution for Dreamers. Acting now would unlock the potential of the Dreamers, promote economic opportunity, and strengthen our communities."
View the mailers online here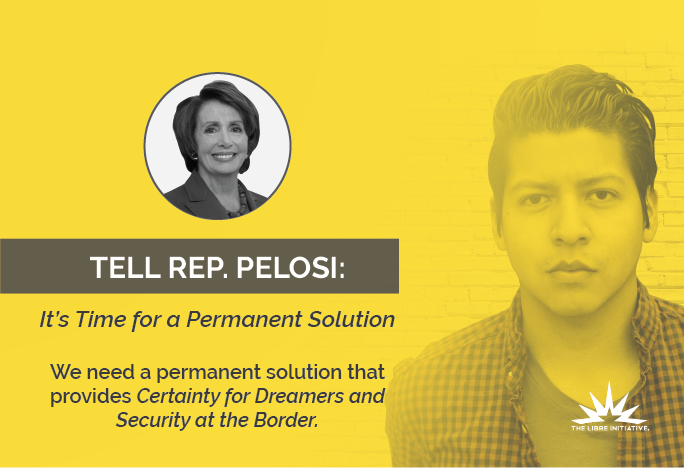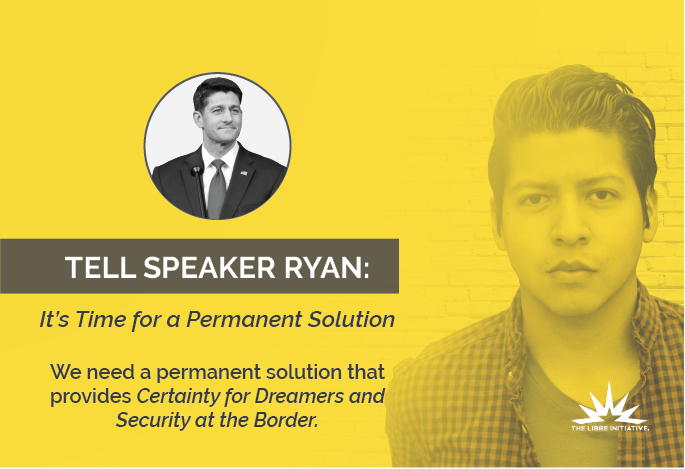 List of Lawmakers

Chuck Schumer – NY

Dick Durbin – IL

Sherrod Brown, Rob Portman – OH

Paul Ryan – WI

Mitch McConnell – KY

Nancy Pelosi – CA
Tammy Baldwin – WI
Martha McSally – AZ

Michael Bennet, Cory Gardner – CO

Catherine Cortez Masto, Dean Heller – NV

Martin Heinrich, Tom Udall – NM

Bill Nelson, Marco Rubio – FL

Ted Cruz, John Cornyn – TX

Mark Warner, Tim Kaine – VA
Immigration Efforts:
Phone Banking
Immigration Town halls
Capitol Hill Advocacy
Email Push – Letters to Members of Congress
National TV and Digital Ads
Background:
Congress has failed to address the urgent matters at hand: DACA and border security. They should seize the current opportunity and agree on a compromise that solves the matter at hand. A deal is within reach – permanency for Dreamers and $25 billion to enhance border security – it is time to seize it. This first step towards improving our immigration system should address the status of Dreamers and improve our border security.
For interviews with a representative from the LIBRE Initiative, please contact Brian Faughnan, 202-805-1581 or Wadi Gaitan, 202-853-4463
###