LIBRE's "Share the Dream" Campaign Highlights the American Dream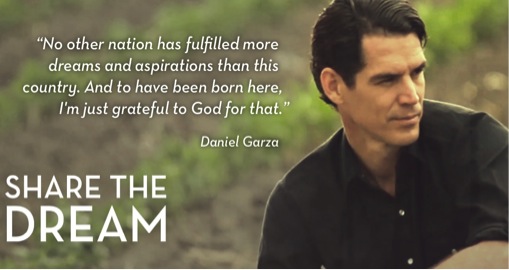 Lea versión en español aquí
LIBRE's "Share the Dream" Campaign Highlights the American Dream
Daniel Garza and Rachel Campos-Duffy Share their Inspirational Stories as
Children of Immigrants Who Worked Hard to Prosper in the United States
(Washington D.C.) – The LIBRE Initiative, a national non-partisan and non-profit organization that provides U.S. Hispanic communities with the tools to prosper, launches Share the Dream, a campaign featuring the stories of four children of immigrants and the common thread that led them to succeed in the United States. The bilingual, broadcast, digital and social media campaign, aims to inspire others to achieve the American Dream and embrace the principles that lead to prosperity in America. The television ads featuring LIBRE's Executive Director, Daniel Garza, and LIBRE National Spokesperson, Rachel Campos-Duffy, will begin broadcasting today in the following television markets: Albuquerque, NM; Miami, FL; Phoenix, AZ; Las Vegas, NV and San Antonio, TX.
"With this campaign we want people to know that despite the challenges we face in our country today, the American Dream is still possible – that is, if this Administration begins to reverse course. Policies from Washington should serve to reward Americans who work hard, demonstrate self-responsibility and bring their talents and skills to the market. But today's policies are growing government's power by incentivizing dependency and reliance on government – this is an approach that is limiting opportunity, controlling people's lives and stifling their ability to achieve their American Dream. We hope that the stories featured on in this campaign inspire folks to protect the principles that lead prosperity so that they too can Share the Dream." – Daniel Garza View video
"Hard work and self-reliance were what lifted my parents out of poverty and into the middle class. As a Hispanic mom, I worry that a growing sense of entitlement and dependency will replace the grit and can-do spirit that is our cultural strength and the key to fulfilling our American Dreams. My story and LIBRE's "Share the Dream" campaign is precisely about passing these tried and true values on to our children so they can prosper on their own terms. The American Dream is still alive and I'm so proud to be a part of an organization fighting to make sure the United States remains the land of opportunity." -Rachel Campos-Duffy View video

For more information on Share the Dream visit: joinlibre.org.
For interviews with a LIBRE representative, please contact: Judy Pino, 202-578-6424 or Brian Faughnan, 571-257-3309.