Get the latest updates from every stop on LIBRE's True Cost of Washington Tour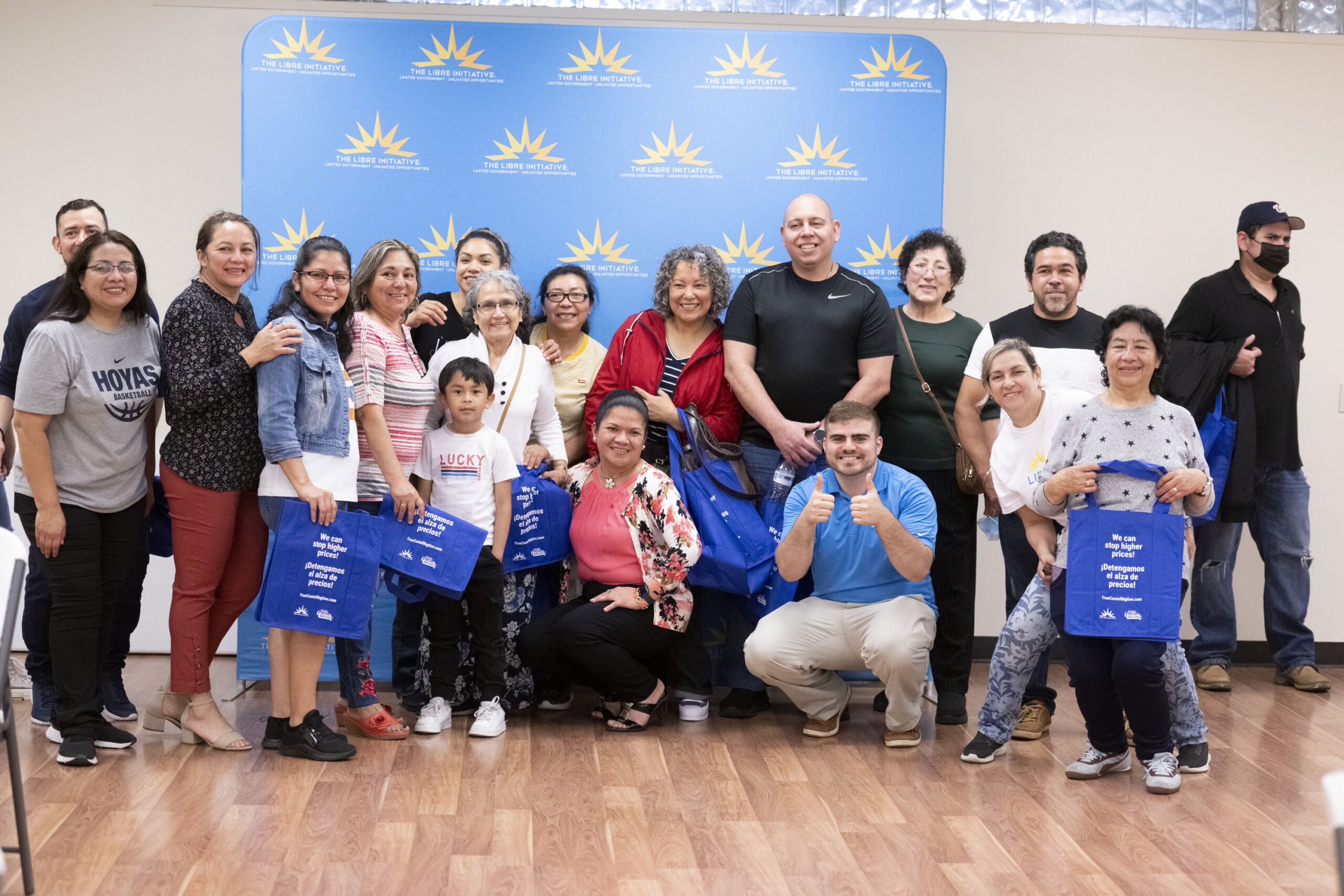 Updated August 5, 2022
In the Hispanic community, like in all communities across our nation, we are all trying to live out our unique version of the American Dream.
For some, it may mean owning a house, a car, or even starting their own business.
But as Heidi Hernández in Woodbridge, Virginia told us at our inaugural LIBRE True Cost of Washington Tour event on May 14:
This year has been incredibly tough on my family and I and it's getting harder and harder to remain optimistic.
The True Cost of Washington is making it harder for our community to live out the American Dream!
Historically high inflation rates are costing the average American household over $430 more a month — that's over $5,200 this year.
But there are solutions we can advocate that will help lower the cost of living for the Hispanic community and all Americans:
Invest in affordable energy solutions

Government needs to stop picking winners and losers

Cut red tape and regulations

Stop unnecessary government spending

Embrace flexible work
We're presenting these solutions at each stop of our True Cost of Washington Tour.
June 26 + 30: Charlotte and Wilmington, North Carolina
On June 26, The LIBRE Initiative's True Cost of Washington Tour made a stop in Charlotte, North Carolina to talk to Hispanic residents in the Central Avenue community about the impact the higher cost of goods is having on their families.
The grassroots event — to bring awareness to harmful federal policies driving up inflation — was hosted at SAV/WAY Foods, a locally owned Latin supermarket located in the heart of the Charlotte Hispanic community.
Charlotte residents and LIBRE volunteers applauded the organization's commitment to engage and empower the Hispanic community with information to effectively control inflation.
LIBRE gave out 'inflation gift vouchers' to the first 150 attendees that were redeemable at SAV/WAY for a value of $28.67, the average cost of inflation for two days.
The event attendees were very appreciative of the financial relief LIBRE provided that day. Some were overcome with emotion by the stress of inflation and the gratitude of LIBRE's assistance.
Many shared stories about how they are paying more but are getting less at the checkout counter. In North Carolina, the cost of inflation is higher than the national average, costing families 12.1% more — the equivalent of $566 more monthly and $6,789 annually.
The second stop of the tour was in Wilmington, North Carolina. This time, LIBRE partnered with Los Portales Supermarket.
Despite being 200 miles from Charlotte, the stories from event attendees were similar: they are paying more but getting less. It's undeniable that the Hispanic community is being negatively affected by Washington's policies.
Much the Hispanic community in the United States has experienced inflation. Many immigrants have left their home countries because of the lack of economic opportunities.
One of the immigrants is Jonathan Uzcategui, who immigrated from Venezuela, a country that has seen hyperinflation.
The lack of real solutions to address inflation in the United States is driving the Hispanic community to get involved in public policy, and that is why Uzcategui volunteers with LIBRE.
May 14: Woodbridge, VA
Just a few miles from Washington, LIBRE held an event at TODOS Supermarket, to educate customers and the general public about the true cost of Washington on every day Americans – and how rising inflation means that we are paying more for every day goods and services, but getting less in return.
To help folks during this stressful and economically challenging times, we were happy to extend a gift card to folks with an amount of $28.67– the approximate cost of inflation for two days' worth of spending.
LIBRE-Virginia Coalitions Director Michael Monrroy spoke to Univision at the event:
In June, LIBRE will host events in Arizona and Nevada with more dates still to come! Stay tuned.
Learn more about how rising inflation is hurting the Hispanic community — and five effective solutions for controlling it.