LIBRE Launches "The Accountability Project" Aimed at Washington Politicians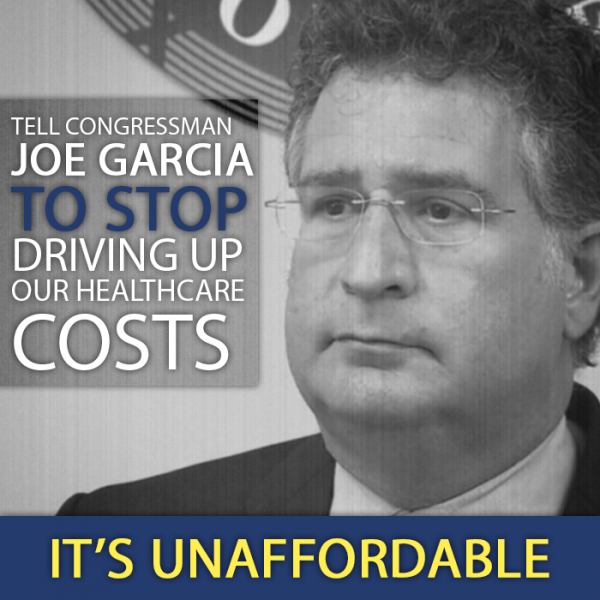 LIBRE Launches "The Accountability Project" Aimed at Washington Politicians
Highlighting Broken Healthcare Promises Under Obamacare
(Washington, DC) – Today, the LIBRE Initiative announced the launch of "The Accountability Project," a new bilingual, multimedia campaign effort that uses television, radio, and digital web ads to promote accountability for the broken promises of some Washington politicians under The Affordable Care Act (ACA), also referred to as "Obamacare." The ads will focus on the record of politicians like Congressman Joe Garcia (FL-26), for supporting the new healthcare law, which is driving up health care costs for already-struggling Floridians, causing many to lose their current healthcare policies and doctors, and leading to a loss of full-time jobs across the state.
LIBRE staff and volunteers will provide information on the facts about the ACA at workshops and townhalls in Hispanic communities all over the country, but especially in South Florida, where the ACA is making it harder on retirees, companies, workers, students, and spouses who are suffering from the law's inflexible mandates. This effort also includes grassroots events including rallies to gain public awareness of "The Accountability Project," as well as informational sessions reflecting how the law is hurting Floridians who are already experiencing difficulty finding affordable care for themselves and their families.
View ad here.
Daniel Garza, Executive Director of The LIBRE Initiative released the following statement:
"Obamacare is policy malpractice. While the law was well-intentioned, it was always a bad idea to try to put Washington politics ahead of doctors, patients, and families in making critical health care decisions. It's simply impossible for bureaucrats and politicians to efficiently administer one-sixth of the U.S. economy through mandates and coercion. Unfortunately, millions of Americans are now paying the price for this failed experiment. This campaign calls on Floridians, who are already feeling the painful impact of Obamacare, to make Washington politicians, like Congressman Joe Garcia, accountable to his constituents for supporting this unfair law that is doing serious damage to our health care and our economy."
Transcript of ad:
In South Florida, families are struggling.
Costs continue to rise, but we're still earning less.
And this Washington politician is making things worse.
Joe Garcia supports the new healthcare law
which burdens Americans with higher insurance premiums
costing hard-working families thousands.
[Reporter voiceover]: "The Obama administration is conceding that
some people will have to pay a lot more for health insurance."
Tell Congressman Joe Garcia to stop driving up our healthcare costs.
It's unaffordable.
***
For interviews with a LIBRE representative, please contact: Judy Pino, 202-578-6424 or Brian Faughnan, 571-257-3309.