The LIBRE Initiative Launches Second Ad for "The Accountability Project" in Texas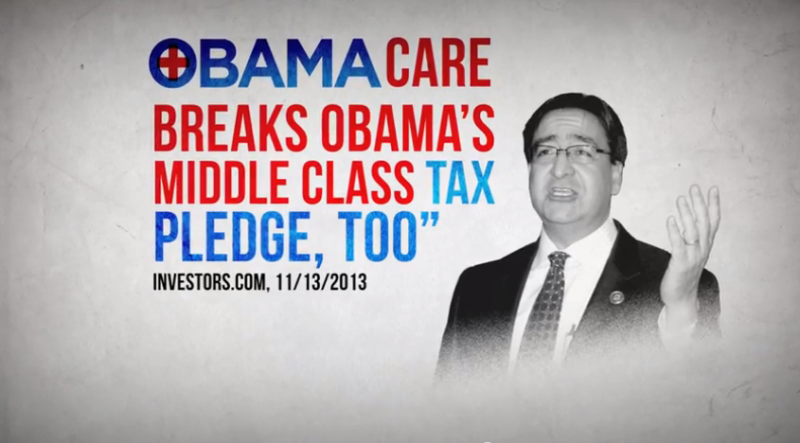 The LIBRE Initiative Launches Second Ad for "The Accountability Project" in Texas
Ad highlights the many broken promises under the Affordable Care Act and Congressman Pete Gallego's continued support of the law
(San Antonio, Texas) – The LIBRE Initiative, a non-profit and non-partisan organization that provides U.S. Hispanic communities with the tools to prosper, released today a new ad of "The Accountability Project" – a seven-figure multimedia effort that includes television and digital campaign ads to draw attention not only to the many problems associated with the Affordable Care Act, also referred to as Obamacare, but also to other public officials who support it.
The second Texas ad – to run in English-language television stations in Southwest Texas – points to Congressman Pete Gallego, (TX – 23), for his support of the law and the broken promises under the Affordable Care Act.
The Accountability Project began last November with the purpose of holding politicians across the country accountable for their support for the law despite its record of canceled policies, higher premiums, higher deductibles, shortage of doctors, and an unfair tax penalty for those who do not purchase qualifying insurance. View the ad here.
Learn more at www.keepthemaccountable.net
Daniel Garza, Executive Director of The LIBRE Initiative released the following statement:
"Aside from the chilling effect the Affordable Care Act has had on the business community, the deficiencies of the law continue to pile on. This law has negatively impacted many hard working folks who through no fault of their own have either had their policies cancelled, lost access to their doctors, are paying higher premiums, or will be stuck with a tax penalty if they fail to get insurance coverage. To add insult to injury, the Administration has failed to offer the Hispanic community a working Spanish website – as promised. Yet, we have politicians like Pete Gallego who continue supporting this law and offer their constituents no reprieve or explanation for breaking so many promises. Personal healthcare is too important to our families and communities to accept such mediocre results. This campaign is holding their feet to the fire and putting pressure on them so that they understand that the people of Texas deserve better."
Transcript of Ad:
Too many families are receiving cancellation notices because of Obamacare.
They're finding out they have to pay significantly more for the same coverage, and there's no guarantee that they will have access to the doctors they know and trust.
You know they promised us so much, but politicians like Congressman Pete Gallego supported this law which raises taxes on middle class families.
This is our health we're talking about, tell Congressman Pete Gallego to stop supporting Obamacare.
We deserve better.
Visit keepthemaccountable.net
Learn more about "The Accountability Project" campaign and LIBRE's efforts to keep elected officials accountable for supporting the flawed Obamacare law that is causing families everywhere to lose their current health care plan and lose their full time jobs. They are elected to make the right decisions for the people – let's keep them accountable.
For interviews with a LIBRE representative, please contact: Judy Pino 202-564-6878 or Ronald Najarro 702-539-2541