Latino leads House against immigration reform with path to citizenship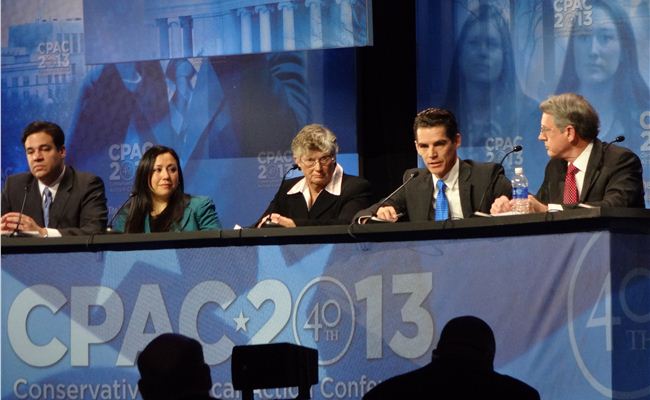 VOXXI By Griselda Nevarez March 15, 2013
Rep.Raul Labrador (R-Idaho) is emerging as the House's leading conservative voice against an immigration reform that includes a path to citizenship for the 11 million undocumented immigrants currently in the United States.
This became more apparent Thursday when he participated in an immigration panel at the Conservative Political Action Conference (CPAC), the largest annual gathering of conservatives. He stressed during the one-hour panel discussion that he doesn't support legislation that would allow undocumented immigrants to become legal permanent residents or citizens.
Instead, the 45-year-old Puerto Rican said he favors legislation that would give undocumented immigrants a legal status. He explained this could be accomplished through a robust guest worker program that would allow undocumented immigrants to seek non immigrant visas to stay and work.
"Anyone who wants to become a legal permanent resident or a naturalized citizen of the United States is welcome to apply, but the key is that they must follow the same procedure that will be available to all immigrants," he said during the panel discussion titled "Respecting Families and the Rule of Law: A Lasting Immigration Policy."
In other words, undocumented immigrants who seek a legal status or citizenship would have to return to their country of origin and apply to legally come to the U.S. Immigration reform advocates who support a direct path to citizenship reject that idea, saying that process takes years. But Labrador said Thursday, "It would be a travesty, in my opinion, to treat those who violated our laws to get here much better than those who have patiently waited their turn to come to the United States the right way."
On border security, Labrador said the fences across the southern border must be completed. He also called for more interior enforcement, such as implementing an employment verification program and allowing local law enforcement agencies to work with federal agencies to crack down on illegal immigration.
Before Thursday's immigration panel, Labrador had been largely optimistic about efforts to work with Democrats to garner support for immigration reform in the House.
He even participated in private meetings with several Democratic House members—including Luis Gutierrez of Illinois and Xavier Becerra of California—to find common ground on the immigration issue. But on Thursday, Labrador blasted the Democratic Party for siding in 2007 with labor unions that opposed a portion of that year's immigration reform billfocused on guest workers. He said Democrats knew that siding with the laborunions would eventually kill the bill but did so anyway.
"The Democratic Party has a problem right now," he said during the panel discussion."They have to pick between their two favorite children: The Hispanic groups and the labor unions. Every time they have to make that decision between those two groups, they actually pick the labor unions every single time."
The AFL-CIO responded to Labrador's remarks blaming labor unions for the failure to pass an immigration reform in 2007.
"It is astonishing that Raul Labrador, who to this day is unclear if he supports a realistic roadmap to citizenship for people who are Americans in every way except on paper, would blame unions for scuttling immigration reform in 2007," AFL-CIO spokesman Jeff Hauser told National Journal. "The very same hateful right-wing talk radio that propelled Labrador's beloved Tea Party to power in 2010 made legitimate, pro-immigrant reform impossible in 2007," Hauser added. "Labrador should disavow hateful allies rather than attacking the working people who are fighting across the country for a roadmap to citizenship."
On Thursday,Labrador also expressed frustration over calls for the Republican Party to soften its tone on immigration in order to appeal to Latino voters.
"I know tone is important, but we need to stop flagellating ourselves," he said, adding that the GOP needs to stop blaming itself for the failure to pass immigration reform bills in recent years. "I think it's important that we have better rhetoric, but you have five Republicans who have bad rhetoric," he said, though he didn't mention the names of those five people. "The rest of [us] are actually pretty good about what we're saying about the immigration issue, so let's stop talking about this and let's get[immigration reform] done."
Dan Garza,executive director of The LIBRE Initiative and a panelist, agreed with Labrador.
"This notion from the liberal side, or this picture that they've painted that conservatives do not care about minorities is defamation of the worst kind. It's almost evil," Garza said.
But there were two other panelists who disagreed with Labrador and Garza. The first one was Dr. Whit Ayres, president of North Star Opinion Research. He warned Republicans, "You cannot run against a group of people and hope to have those people turn around and support you."
"The idea that we can use harsh tones against the undocumented without affecting how the people who are American citizens look at us is delusional," Ayres said.
Jennifer Korn,executive director of the Hispanic Leadership Network, also disagreed with Labrador and Garza. She spoke about how the Republican Party's tone oni mmigration in the last couple years has impacted Latinos.
"Hispanics do agree with us on many issues—the economy, education and healthcare —but they're not listening because of the harsh tone on immigration," she said.
Labrador's recent remarks on immigration could be a warning about the troubles immigration reform supporters face in convincing the House's most conservative members to support an immigration reform with a path to citizenship.
The "Gang of Eight"senators who are drafting a bipartisan immigration reform bill have expressed confidence about passing the bill in the Senate, but the same cannot be said about the GOP-controlled House.
That's because in the House, there are more Republicans who oppose a pathway to citizenship, a key provision will most likely be included in the Senate bipartisan bill. Many House Republicans also come from safely Republican districts where the chances that they'll be voted out because they oppose a pathway to citizenship are slim. However, Ayres expressed confidence about seeing an immigration reform pass this year. He said members of the "Gang of Eight" are "very optimistic" that they will be able to put together a bill that receives support from half of the Republicans and almost all the Democrats.
"If they're able to do that, it would have a whale of a head of steam going into the House,and it would provide a lot of cover for those in the House who find a vote for immigration reform difficult," he said.
Read more: http://www.voxxi.com/immigration-reform-without-pathway/#ixzz2Nub2Mt2L