Injustice Doesn't Come Cheap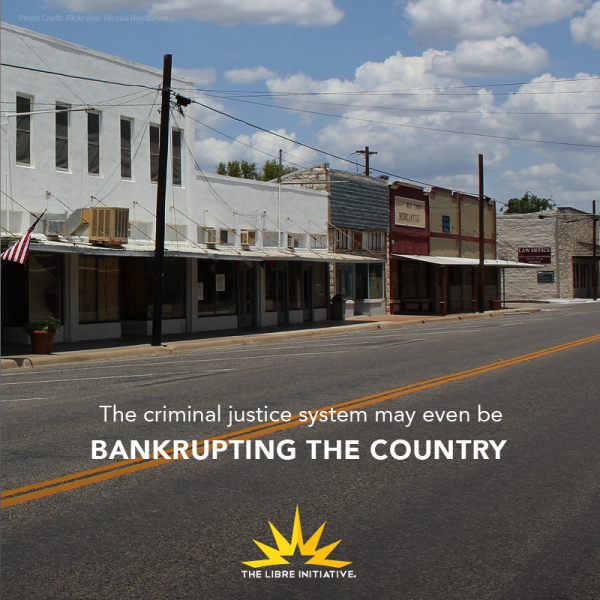 It's easy to see why so many people are fed up with our troubled criminal justice system. For some, it's the erosion of civil liberties, rights, and the dignity of the individual. Others balk at the obvious social costs of the system, which can tear apart families, businesses, and communities. All of these capture different aspects of what makes the abuses of the current system so threatening to a free society. However, advocates for criminal justice reform may have a new argument at their disposal: the criminal justice system may even be bankrupting the country. Money is never the bottom line in any fight for liberty, but in order to create a broader coalition to fix America's criminal justice system, we'll have to use every tool we've got.
To give an example, just one sentencing reform bill proposed last month could save the federal government up to $722 million over the next ten years, according to estimates by the Congressional Budget Office. "We have an obligation to change the way we think about incarceration, and today's CBO report shows that we have a fiscal obligation as well," said the bill's co-authors, Sens. Chuck Grassley (R-IA) and Dick Durbin (D-IL), in a statement.
Another bill, proposed in 2013 by Rep. Jim Sensenbrenner (R-WI), aimed to cut more than a third of the existing criminal code by consolidating existing crimes and eliminating those that are no longer necessary. "It's time to scrub it clean and reduce federal spending by eliminating unnecessary criminal laws," Rep. Sensenbrenner told the Wisconsin Reporter. "Criminalization is the bluntest tool Congress wields. And over-criminalization is a threat to personal liberty and an expensive and inefficient way to deal with a lot of our nation's problems," he said.
Bills like these are brilliant, but it's important to note that the simple savings from sentencing reform are only a small part of the picture. Over-criminalization is part of a complex, interrelated set of problems that push increasing numbers of Americans into prison, and leave local courts and police stations cash strapped and unable to effectively administer justice. Every year, over 50,000 people are convicted of felonies in the United States. Out of those, 80 percent are so poor they have to resort to publicly appointed attorneys who – in some states – are able to work less than an hour on each case. When resources are stretched like this, the system is unable to provide for those in need of public defenders or English-to-Spanish translators, resulting in miscarriages of justice and unnecessary incarcerations that drain our finances even further. The result is a street-to-prison pipeline that is putting innocent Hispanic Americans behind bars, and it has to stop.
Let's be clear. Our criminal justice system needs to change because it too often leads to massive injustice and erodes our civil liberties. And all that injustice doesn't come cheap. Different people find different arguments compelling, so for those who are more easily persuaded by a financial one, here it is. It's going to take a coalition spanning the entire political spectrum in order to reform our criminal justice system, including conservatives, progressives, and libertarians of all stripes. At least now we can say there's something in this for everybody.