House Votes to Reauthorize Crony Export-Import Bank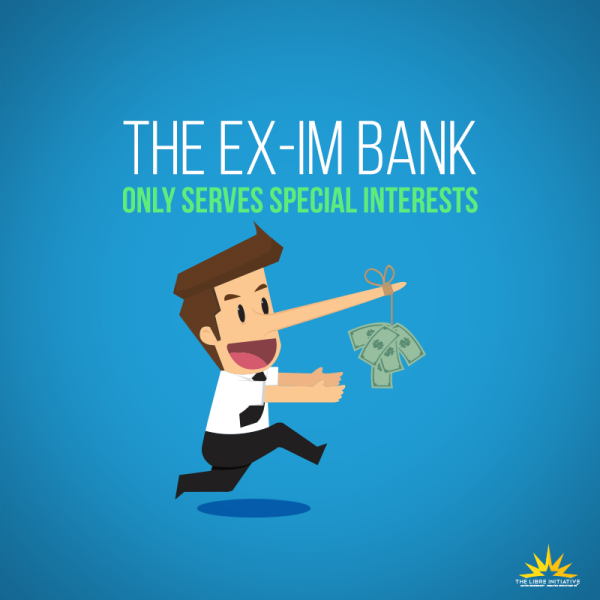 Last week the House of Representatives voted by a nearly three-to-one margin to reauthorize the Export-Import Bank, after authorization for the New Deal institution had expired this summer. While the bank's defenders argue that government assistance for large corporations is necessary to protect American jobs, critics point out that the bank is a job-killer, a fund for corporate welfare, and a drain on the American taxpayer. And while the bank claims to support minorities like the Hispanic community, the data show that Hispanics receive little to no benefit at all.
While many special interests have come out of the woodwork in recent months to defend Ex-Im, almost every major Republican figure opposes reauthorization. Wisconsin Governor Scott Walker, as well as presidential candidates Gov. Jeb Bush (R-FL), Sen. Ted Cruz (R-TX), Sen. Rand Paul (R-KY), and Sen. Marco Rubio (R-FL) all registered opposition to Ex-Im reauthorization this summer.
Incoming House Speaker Paul Ryan (R-WI) strongly disapproved of reauthorizing the Export Import Bank in debate over the legislation last Tuesday.
"I think there are plenty other ways to expand opportunity in this country, and corporate welfare is not one of them," explained Rep. Ryan. "We should be exporting democratic capitalism, not crony capitalism."
The bank has many opponents in the American business community, who argue that Ex-Im gives unfair advantages to their foreign competitors. According to the CEO of Delta Airlines, Ex-Im's loan assistance to help foreign airlines purchase aircraft from Boeing at a discount disadvantages American carriers.
"In spite of our government's stated goal to foster open markets free of state subsidized competition, U.S. airlines today face that very competition from our own government in the form of Ex-Im loan guarantees, subsidies that are both massive and unnecessary," CEO Richard Anderson testified in 2014. "Ex-Im provides a tangible competitive advantage to foreign carriers."
According to Delta's estimates, the advantages Ex-Im gives to the foreign competitors of American businesses has cost 7,500 jobs in the airline industry alone, as well as $684 million in revenue.
By transferring risk from foreign businesses to American taxpayers, Ex-Im is little more than a fund for corporate welfare for large, politically connected corporations. The bank's advocates like to claim that 99% of its customers are small businesses, but this claim obfuscates the fact that all customers are not created equal. While some receive hundreds of millions of dollars in financing, others receive only small amounts of assistance. In 2013, a whole 64% of the bank's total assistance by dollar value went to only ten companies. Moreover, the bank's own definition of what constitutes a small business includes firms with up to 1,500 employees and $21.5 million in revenue. According to the bank's own reporting, barely 19% of its financing goes to what it calls small businesses, and the impact of this support on the economy is minimal. Less than 1% of 1% of small businesses in the U.S. receive assistance from the bank. The fact remains that the vast majority of the bank's funding, activities, and benefits go to a handful of large corporations, not small businesses.
The Bank's defenders attempt to justify re-authorization by claiming its government assistance helps minority businesses, but these claims do not hold water. Less than 1% of the 28,531 minority owned export businesses in the United States receive Ex-Im assistance, representing barely 2% of the value of minority exports. Hispanics make up the largest small business owning minority in the U.S., and in many cases taxpayer money is going to their larger competitors thanks to the Export-Import Bank. Moreover, the overwhelming majority of Ex-Im funds do not go to states with the highest growth in Hispanic-owned businesses. In fact, 43.6% of all Ex-Im disbursements went to the state of Washington alone, far from the Hispanic entrepreneurial heartland of Florida, Texas, and the Southwest.
The negative effects of the Export Import Bank on the American economy are too obvious to ignore. Ex-Im is a job-killer, a fund for corporate welfare, and is no good for U.S. Hispanics either. In a free market economy, government should not be allowed to play favorites at the expense of small businesses and the Hispanic community. The House vote to reauthorize Ex-Im is a handout for special interests, and flies in the face of the free market. Now it is up to the Senate to stop reauthorization in its tracks.