Greetings for America's Unemployed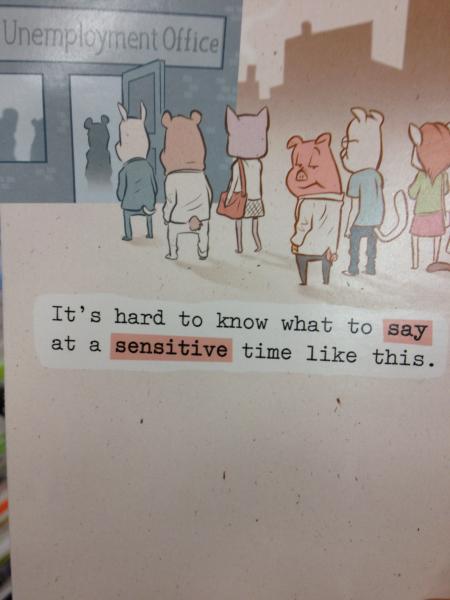 A recent trip to the local drug store to pick up a greeting card for a colleague turned into an Aha! moment for me. As I shuffled for the perfect card, I came upon a greeting specifically addressing the nation's joblessness. The card depicted a long line of animal characters at the unemployment office on its cover with the message: "It's hard to know what to say at a sensitive time like this."
I too was left speechless! For $2.79 Hallmark's Shoebox Greetings was all of a sudden capitalizing on a problem that is not going away any time soon. And who can blame them? The law of supply and demand hit me like a ton of bricks. The fact that the economic situation in the country was so bad that the largest greeting card company in the nation felt compelled to design a greeting card to sell to the masses – like they do for Mother's Day or birthdays – was astonishing.
This week's Bureau of Labor Statistics (BLS) report indicated a slight decrease in unemployment, 7.4% from 7.6% in June and 8.1 percent a year ago. Hispanic unemployment rate jumped to 9.4%, up from 9.1% last month, two points above the national rate. Hispanic youth unemployment is up more than 1 percentage point – to 30.9%, with 446,000 Hispanic youth searching for jobs.
The lackluster economic growth parallels the latest Gross Domestic Product (GDP) and staggering national poverty results- 46.2 million Americans nationwide living in poverty and Americans are losing sight of the American Dream due in part to lingering unemployment.
However, as our country muddles through these tough times, some cities are showing a glimmer of hope thanks to their pro-market approach toward recovery. States like Texas, for example, that dominated the Forbes survey this year as "The Best Cities with Good Jobs" are proving to set the Gold Standard, if you will, of how to survive in this tough economy by offering lower taxes and adopting a pro-business model that does not overburden job creators with onerous regulation. Indiana is following suit with the largest tax cut in state history passing the state legislature that would provide some tax relief for working families and small businesses and family farms.
These states have the right idea. After all, any slight growth of the economy thus far is credited to the entrepreneurs who are creating jobs, when the federal government has failed Americans with wasteful spending of our tax dollars and still continues to ask for more of our hard earned cash to compensate for negligent accounting.
Upon further research, I found out that Hallmark released the line of job loss greeting cards at the height of the economic meltdown in September of 2011. Trouble is, the cards are still on the shelf, and if the disproportionate unemployment numbers amongst Hispanics are any indication, maybe they should consider translating the greetings to Español to meet market demand.