Florida One Step Closer to Abolishing Corporate Welfare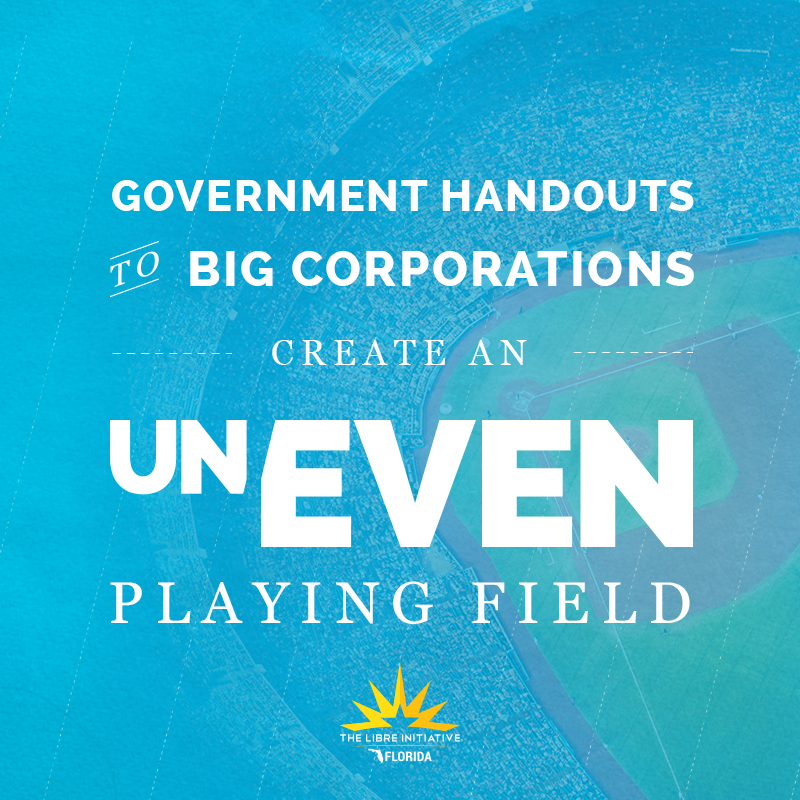 Thanks to pressure from free market activists, a bill to abolish several major corporate welfare programs has advanced through the Florida House of Representatives.
Florida lawmakers have passed a sweeping reform bill, H.B. 7005, which would essentially end government handouts to politically connected corporations in the Sunshine State. Specifically, the bill targets Enterprise Florida, a public-private partnership that hands out the taxpayer funds to a few large companies. These programs disproportionately benefit big businesses and out-of-state companies instead of Florida small businesses.
These cronyist corporate welfare programs benefit the few at everyone else's expense, and reward companies for their political connections rather than the value they create for their customers in a free market. Eliminating them is a critical step on the path to addressing the two-tiered society that is emerging in this country. Instead of spending millions to lobby legislators for more handouts, companies will have to compete fairly in the marketplace, where the value they create for customers is more important than the value they create for favored politicians.
According to a study by Good Jobs First, which examined corporate welfare spending in three states, Florida sends the bulk of incentives to large companies, while smaller entrepreneurial companies get comparatively little. Sixty-nine percent, or $93 million, in taxpayer handouts in 2014 went to such corporations. These massive, cronyist, corporate beneficiaries have little in common with the typical Hispanic business. In fact, 90 percent of Hispanic businesses are one-person entrepreneurial outfits, a figure markedly higher than the national average. No matter the size of their companies, these entrepreneurs contribute billions of dollars to the economy every year. With Enterprise Florida and other corporate welfare programs out of the way, these small businesses will have a fair shot at success.
Without these damaging and unnecessary corporate welfare programs, Florida's economy will continue to thrive. People are coming from all over the United States to shop, stay, and see the sights in our state, and the tourism industry is flourishing. We have no need for expensive spending programs to stimulate an already thriving industry. Calls for the government to do so are largely motivated by the specific industries on the receiving end of this largesse, not hard working Florida families. After 20 years of operation, Enterprise Florida has negotiated over 1,600 transactions worth more than $1.7 billion, yet has managed to create barely half the number of jobs it originally promised to provide. Florida taxpayers should breathe a sigh of relief, and the Florida House of Representatives deserves a pat on the back for keeping the interests of ordinary citizens at heart.
The passage of this bill is a win for Hispanic small business owners in the state of Florida, whose opportunity in this country depends on a free market and a level playing field that allows everyone to profit by creating value for society. When the government picks winners and losers and awards favors to politically connected businesses, it undermines competition and gives politicians and businesspeople an incentive to engage in corruption and kickbacks. It's unfair for taxpayers to shoulder the burden of wealthy industries while hardworking Florida families are struggling to get ahead. All businesses should be treated the same – and should not rely on hardworking Floridians' tax dollars for their success.
The Florida House of Representatives deserves recognition for taking this crucial first step toward ending this broken system, creating economic opportunity and increasing prosperity for everyone.