Dozens demand 'A Dreamer deal, now' at the US Capitol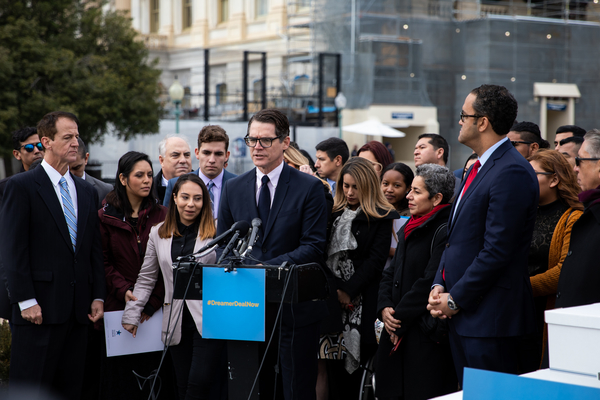 Nineteen-year-old Elias Garcia stood at the lectern near the east steps of the U.S. Capitol on Feb. 13. A crowd of cameras stood before him, as dozens of Dreamers, community activists and organization leaders stood behind. Boxes of paper representing the more than 80,000 letters Americans have written to Congress were stacked to his left.
"I'm here to say that there are Dreamers like me who are trying to make a difference in someone's life every single day — that there are Dreamers going to school not knowing if they will be given the permission to work, or to be allowed to be part of this nation, for the next two years," Garcia said firmly into the microphone.
He was speaking at a press conference hosted by The LIBRE Initiative, the National Immigration Forum, Americans for Prosperity, FWD. US, the Bipartisan Policy Center, the U.S. Chamber of Commerce, Niskanen Center and UnidosUS. Other speakers, including U.S. Reps. Will Hurd and Dan Newhouse, had spoken before him. It was up to Garcia to close the event.
"I'm here to ask for a hero on any side who can put a proposal on the table and that this proposal doesn't just stay a proposal but that it becomes a deal," he said. "A Dreamer deal, now."
Each person surrounding Garcia was there for the same reason: to call on Congress to pass a bill that provides funds for border security and a permanent solution for Dreamers.
In 2017, the administration called for the end of the Deferred Action for Childhood Arrivals program, which deferred the deportation of undocumented immigrants who were brought to the United States as children — known as Dreamers. DACA was implemented under the previous administration through an Executive Branch memorandum, so it was in no way permanent.
Since the DACA order was rescinded, Dreamers have been living their lives with further uncertainty. Without congressional action, they will likely be at risk of deportation. This has made it nearly impossible to plan a future and has sent nervous shockwaves through communities across the country.
Garcia's story is one many Dreamers relate to. He was born in Mexico and was brought to the United States when he was one year old. His parents, in college at the time, wanted a better socioeconomic future. So, Garcia grew up in the U.S. and lives in Glendale, Arizona. He's now a student at Grand Canyon University with the aspiration to become an entrepreneur.
But, it all could vanish. Without permanent legal status, Garcia could be sent back to Mexico — a place unfamiliar to him. Every Dreamer has this ugly reality looming overhead.
That is why it is of the utmost importance that Congress unite and find a permanent solution.
"I am here because over 1.2 million young men and women who have only known the United States of America have to live under uncertainty. I am here because there are 1.2 million young men and women who have been contributing to our culture, to our economy, and to our society who have been living in uncertainty," Rep. Hurd said during the press conference. "Why am I here? Because for some reason, leadership of the House of Representatives refuses to bring a bill to the floor that can pass."
Stand with Elias Garcia and all of America's Dreamers by signing this letter, telling Congress to provide Dreamers with the certainty they need!