Does Health Care "Data Hub" Threaten Privacy?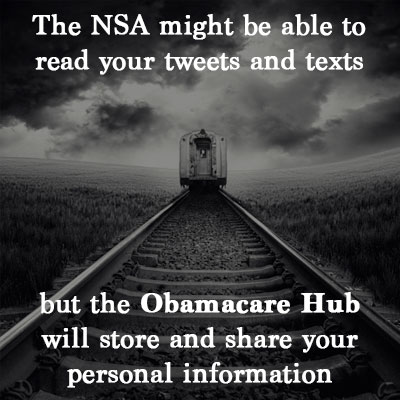 In recent weeks, the news has been full of stories about IRS release of confidential taxpayer information and abuse of power, and expansive NSA surveillance. Most Americans had no idea the extent to which government monitors their communications and their day-to-day activities. Many are looking for assurances that government employees and contractors don't have access to private information about them. In one recent poll, 64 percent of Americans said they believe government has gotten too big. Almost as many – 63 percent – said they have no confidence – or very little confidence – in the federal government.
But at a time when people are asking for Washington to limit how much it monitors their personal lives, the Affordable Care Act (or "Obamacare") actually authorizes the Department of Health and Human Services to set up vast new database. It's called 'The Federal Data Services Hub:'
In response, the HHS said the ObamaCare data hub will "interact" with seven other federal agencies: Social Security Administration, the IRS, the Department of Homeland Security, the Veterans Administration, Office of Personnel Management, the Department of Defense and — believe it or not — the Peace Corps. Plus the Hub will plug into state Medicaid databases.
And what sort of data will be "routed through" the Hub? Social Security numbers, income, family size, citizenship and immigration status, incarceration status, and enrollment status in other health plans, according to the HHS.
"The federal government is planning to quietly enact what could be the largest consolidation of personal data in the history of the republic," noted Stephen Parente, a University of Minnesota finance professor.
Can Washington be trusted with this massive new store of information? Even with a critical program such as Social Security, the track record isn't encouraging. The Government Accountability Office has reported that weaknesses in IRS security systems "continue to jeopardize the confidentiality, integrity, and availability of the financial and sensitive taxpayer information. If leaks and hacking happen with Social Security, what assurances are there that HHS will do better with the Affordable Care Act data hub?
A number of Members of Congress have now written to HHS to get some answers:
According to your Department, the Federal Data Services Hub will share and transmit protected health information, tax and financial information, criminal background and immigration status, and various other personal information between agencies, including the Internal Revenue Service, HHS, the Departments of Justice, Homeland Security, Veterans Affairs, Defense, and the Social Security Administration, state governments, as well as state and federal exchanges. Without an operable Federal Data Services Hub, exchanges will be unable to access the real-time information necessary to verify consumer exchange application information. And more, the Federal Data Services Hub raises many serious privacy concerns.
The letter request a briefing by HHS no later than July 12, in which HHS explains the current status of the project, and how personal information will be protected. LIBRE will provide an update once HHS answers the request and begins to provide details about the Data Hub and its safeguards.