Despite concerns, Latinos say immigration bill is "a breakthrough moment"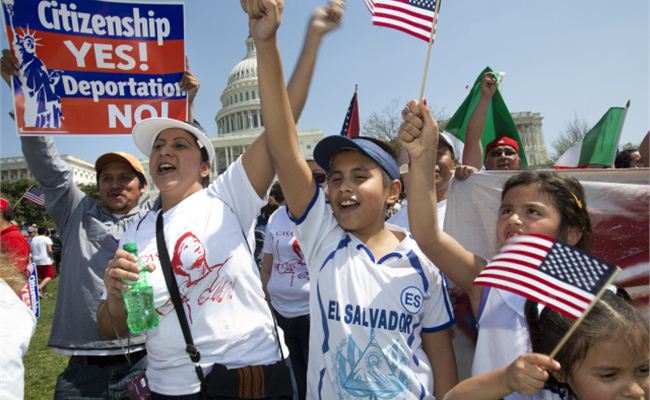 NBC Latino By Sandra Lilley April 16, 2013
So it's out. The eight Senators who came together from two different parties to fundamentally overhaul the nation's immigration laws have drafted a bill, which will be presented in a press conference tomorrow – Boston's tragic events delayed today's announcement. The bill is truly a start – there is no guarantee it will lead to a law – and in fact, the heated debate is just getting started. Regardless of the outcome, the bill is not seen as business as usual.
"It's a breakthrough moment," says Senator Marco Rubio, are expected to have a press conference on tomorrow, and two Senators, John McCain and Chuck Schumer, were briefing President Barack Obama today.
"While not perfect, the Gang of Eight bill is a step forward to creating an earned path to citizenship for the 11 million undocumented immigrants eagerly waiting to contribute to the American fabric," said Florida Immigrant Youth Network. Like many other Latinos in the U.S., San Javier is a citizen, but has Mexican relatives who are undocumented. On the bill's 13-year proposed path to citizenship for those who are here illegally, the college sophomore says it might be too long, but he is looking forward to learning more about the bill.
Daniel Garza, Executive Director of the Libre Initiative, a center-right Latino group which advocates for less government intervention, says creating a pathway to citizenship for undocumented immigrants is a smart step for the economy.
"It legalizes the relationship between employers and employees; it provides certainty to both, and it improves family conditions as well as economic relief," says Garza, who met today with some in the Gang of Eight who created the bill. Garza expressed worry over some of the fees. "If the penalties are too restrictive, it may not get full participation from those who are here illegally, and the economy benefits if there is full participation," Garza adds.
Kica Matos, from the Read more