Daniel Garza, How the Latino vote will shape the 2024 election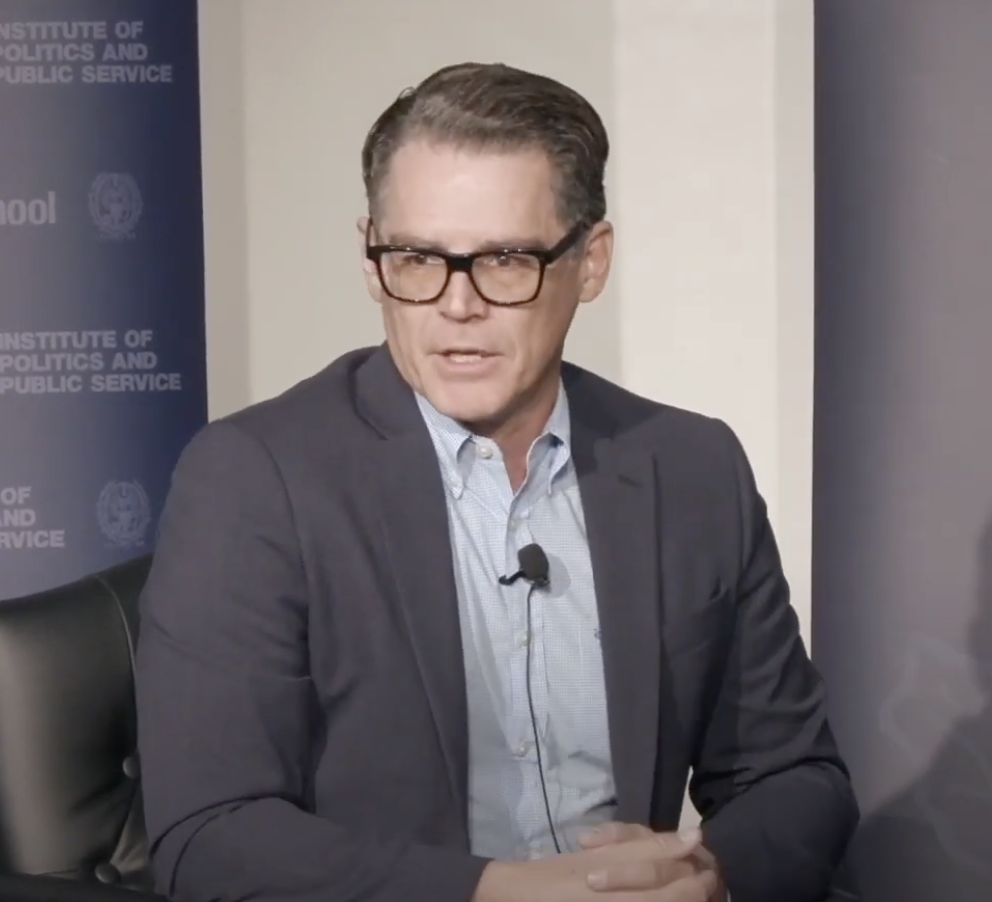 (Georgetown University Oct 17, 2023) – On Thursday, October 12, students gathered in the Fisher Colloquium for a moderated conversation about how the Latino vote will shape the 2024 presidential election. GU Politics hosted this event in collaboration with the Georgetown Latino Policy Initiative (GLPI) and the Latin America & The Caribbean Policy Association (LAPA).
We were joined by Daniel Garza, president of the LIBRE Initiative, current GU Politics Fellow Cristóbal Alex, founding president of the Latino Victory Fund, and Laura Barrón-López, White House Correspondent for PBS NewsHour, who moderated the discussion. The speakers discussed which candidates appeal to Latino voters, what issues matter most right now, and how candidates can effectively target the population.
Garza and Alex emphasized the growing size and importance of the Latino voting bloc in the United States and discussed some of the major policy issues that are on voters' minds, such as economic opportunity, inflation and healthcare access.
Cristóbal Alex talked specifically about what President Biden did in terms of outreach to Latino communities during his 2020 presidential campaign, noting unprecedented efforts by Biden to engage with Latino communities and the importance of Latino representation in his administration.
Barrón-López noted that representation in positions of power doesn't necessarily mean all Latino interests are given a voice or prioritized. Noting that young Latino voters often get information from social media, she asked the speakers what implications this has for campaign messaging. Alex spoke about desires to see less fragmentation in the targeting of minority communities, hoping that campaign strategies will go beyond catering to Latinos and see them like the general market audience.
Abortion was also brought up as an issue that is important to voters. Garza provided his perspective, as someone who is pro-life, on the importance of candidates sticking to their principles and values. He felt Republicans need to listen closely to where communities are on these issues.
Students then got the opportunity to ask the speakers questions. Kristian Thymianos (MPP'24), vice president of GLPI, asked about what Republicans and Democrats are doing to combat misinformation among Latino communities. Garza observed there is a distrust that individuals in Latino communities have for the media so it is important to mobilize civic engagement at the local level. Alex emphasized that disinformation on social media platforms remains a serious issue and underscored the importance of fact checking.
Angelica Franganillo Diaz (MPP'24), head of communications at LAPA, asked how presidential candidates are tackling immigration issues in the U.S., noting that although there are important differences among subsets of the Latino community, immigration issues are often a commonality. She asked the speakers to weigh in on how both Democrats and Republicans are dealing with immigration issues given that both parties do not seem able to agree on the issue or understand what differentiates Latinos within the community.
"Immigration is good, but the system is broken," Garza said, in response. He noted the fixed positions of both parties are hindering reform. Alex talked about Biden's comprehensive plans for immigration reform, noting that its failure was a result of Republicans voting against it. "I think the reason Republicans haven't wanted to pass immigration reform," Alex said, " is because they don't want more Latino voters because they're Democrats."
Student Michelle Meza (MPM'24), National Urban Fellow, asked what the Republican party is doing about some of the tough issues that young Latino voters care about like gun violence, climate change, healthcare and education. Garza emphasized Republican goals of increasing high paying jobs and reducing government regulation. On healthcare, he said it needs to be more accessible. "I think there's a lot of work on immigration reform. We can come together and work on that as well," Garza said.
The speakers also responded to students about what the parties are doing regarding rhetoric around socialism in Florida, the possibility of Texas becoming a blue state and the importance of environmental policy to the Latino Community.
The conversation gave students different perspectives on these issues and valuable insight into the experiences of people currently working in politics and directly with Latino communities.


Review Article Here