Need quick answers to your important questions about DACA? Here are some new facts and latest news.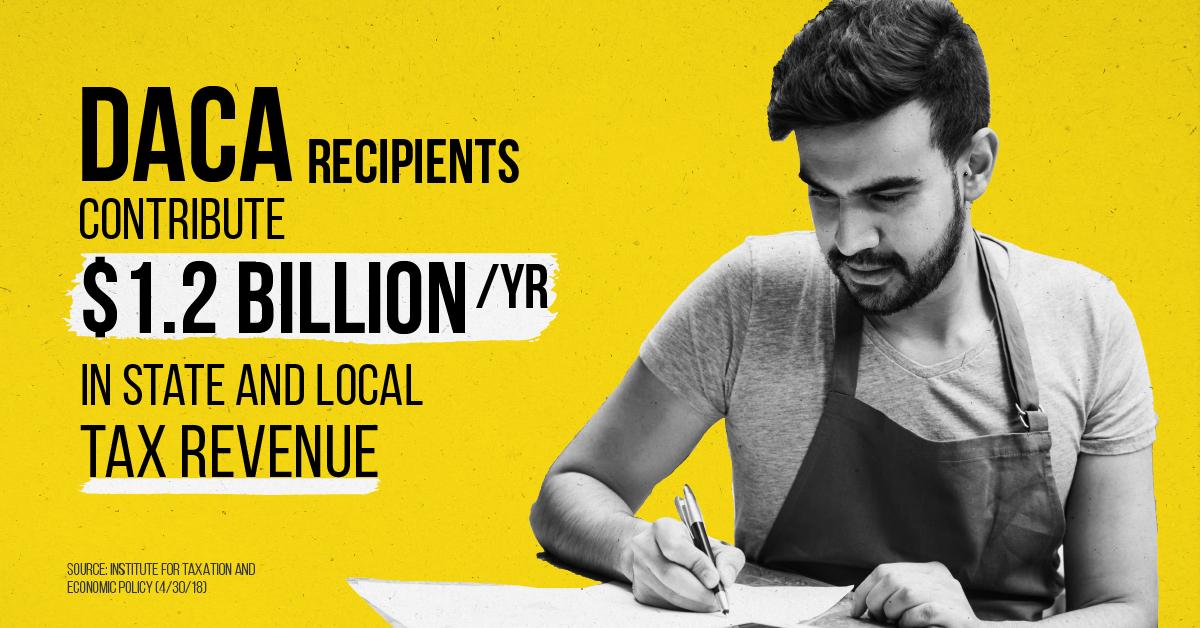 Last updated July 22, 2021
This August marks 20 years since the initial version of Dreamer relief was introduced in Congress.
It's already been 9 years since President Barack Obama announced the Deferred Action for Childhood Arrivals Program.
Since these notable dates, The LIBRE Initiative has received many, many questions about DACA, Dreamers, and other program recipients.
Here are answers to some of the most frequent questions we receive from our readers including:
What's the difference between Dreamers and those enrolled in DACA?
What are the economic contributions of DACA recipients?
Does DACA screen out dangerous criminals? If so, how?
How would suspending DACA affect the U.S. health care system?
We've also updated this post to provide analysis of the latest Court ruling on the DACA program.
What happened with the recent ruling on DACA?
On July 16, 2021, the U.S. District Court for the Southern District of Texas ruled that the DACA program was enacted in violation of administrative law for not undergoing the proper procedures. As a result, the court terminated the program for new applicants.
However, current DACA enrollees may still renew their status until pending decisions from either the appellate court or the Supreme Court—which would likely take at least a year.
Didn't the Supreme Court already uphold DACA?
Just like the recent ruling on the DACA program's enactment, the Supreme Court ruled in June 2020 that the Trump Administration's attempt to terminate DACA violated administrative law. That ruling however, didn't give a decision on the DACA program itself, which left the program legally vulnerable.
What happens next regarding the DACA program and Dreamers' status?
It will likely take a year, at minimum, for a higher court to issue a ruling that could terminate the DACA program for existing applicants.
At the same time, the Biden Administration is anticipated to enact a new program that offers similar protections to Dreamers, which would likely open up new legal battles.
Ultimately Dreamers will remain in legal limbo until Congress passes a solution that gives them a pathway to permanent residency.
Who are Dreamers?
Dreamers are people who arrived in America as minors and would have qualified for the protections under the 2001 DREAM Act.
Because of the few legal channels available, many Dreamers were brought into the country unlawfully with their parents.
Other Dreamers entered the country on temporary visas that expired.
Because U.S. law doesn't allow adult children to stay with their parents on temporary visas, many of these children lost their legal status when they turned 21, causing them to "age out" of the immigration system.
Those who are likely to age out of the system in the future are sometimes called "Documented Dreamers."
What's the difference between Dreamers and those enrolled in DACA?
The Deferred Action for Childhood Arrivals program grants protections to Dreamers who:
Came to America before June 15, 2008 prior to their 16th birthday.
Had no lawful status.
Have enrolled in the DACA program.
Dreamers who do not meet these requirements are not protected under DACA.
Who are the people enrolled in DACA?
The approximate median age of active DACA recipients is 26 years old, a majority of whom arrived in the U.S. between the ages of 1 and 7.
Of the roughly 689,800 DACA enrollees in the U.S.:
About 80 percent are from Mexico and 9 percent are from Northern Triangle Countries that include El Salvador, Guatemala, and Honduras.
Thousands of other DACA recipients hail from places like South Korea, the Philippines, India, Jamaica, and Poland.
DACA recipients must have graduated from high school, obtained a GED, or be a current student. Currently, about 181,600 students who are either enrolled in or who otherwise would've been eligible for DACA are pursuing post-secondary education.
Roughly 23,200 of these students are pursuing advanced degrees. Overall, an estimated 96 percent of DACA recipients are either working or are enrolled in school.
According to 2020 estimates from the Migration Policy Institute, roughly 1.3 million Dreamers are immediately eligible for DACA, while 384,000 would've been eligible after meeting the education requirements. An additional 15,000 children could've become eligible once they turned 15.
Does DACA screen out dangerous criminals?
According to U.S. Citizenship and Immigration Services (USCIS), background checks for DACA enrollees involve checking their biographic and biometric information against a variety of databases maintained by the Department of Homeland Security and other federal government agencies.
DACA enrollees submit their fingerprints, photographs, and signatures to USCIS. DACA rejects people who were convicted of a felony, a significant misdemeanor, or three or more other misdemeanors.
If a DACA recipient fails to abide by the previously mentioned requirements, they lose their protections and can be deported.
How would a suspension of DACA without a replacement affect the U.S. health care system?
Suspending DACA without a replacement would render over 43,000 health care and social assistance workers unable to work.
Currently, about 12,300 DACA recipients are employed in hospitals and nursing facilities. The Association of American Medical Colleges notes that about 200 of these DACA enrollees are physicians, medical residents, or medical students, and that each of whom will likely treat between 1,500-4,600 patients annually.
Hospitals and medical schools have invested a total of $5 million to train these professionals during their residency. These resources would be squandered if no Dreamer solution is passed.
What are the economic contributions of DACA recipients?
Numbers from the American Action Forum find that DACA recipients contribute an average of $42 billion in annual GDP and pay $3.4 billion more in taxes than they consume in benefits each year.
A report by FWD.us states that repealing DACA without a replacement could remove over 20,000 workers from the U.S. labor force each month over the span of two years.
Moreover, a survey from Envoy Global and The Harris Poll found that 82 percent of American employers reported that a rescission of DACA would have a "significant impact" on their talent pool.
Removing DACA with no legislative solution could also mean the loss of 45,000 U.S. businesses

that DACA eligible entrepreneurs started and the annual $658.7 million in income that those businesses generated.
Why haven't Dreamers gotten in line to apply legally already?
Just "becoming a citizen" isn't an option for Dreamers. It seems logical and easy, but unfortunately, there is no "line" or avenue for unauthorized immigrants to get in.
Most people living in the U.S. unlawfully can't simply return to their country of origin and re-enter the U.S. legally.
People who have lived in the U.S. without legal status for more than 180 days are banned from the country for 3 years.
People who have lived in the country unlawfully for over a year are barred for a decade.
This means that Dreamers, who have been living in the U.S. since they were children, generally can't enter the U.S. legally unless they return to a country they barely know and remain there for ten years.
Would a Dreamer solution encourage more people to come here illegally?
Some people assert that a solution for Dreamers could encourage more people to come to the U.S. illegally. Many people who say this argue that this is exactly what happened after DACA was announced.
However, there is no evidence that the DACA program increased illegal immigration.
First, DACA never incentivized future illegal immigration because the program only protects people who entered the country before June 2007.
There's also no data to suggest that more migrants crossed because they mistakenly thought they'd qualify for DACA. Before the program was unexpectedly announced in 2012, there were already surges in unaccompanied children crossing the border. These increases remained consistent the following year.
Additionally, there is no evidence that the 1986 legalization of 2.7 million immigrants increased unlawful immigration, with most studies finding that border apprehensions remained stable following the bill's passage under Ronald Reagan.
However, even though there's no evidence that Reagan's legalization encouraged more unlawful immigration, the U.S. unauthorized population nonetheless skyrocketed from 3 million to 12 million between 1986-2008.
Ironically, a major reason cited for this increase is that enhanced border security and few opportunities to enter legally made it too costly for migrants without legal status to return home, incentivizing them to settle in the U.S.
How would a DACA suspension with no solution affect American families?
Many Dreamers are now married with children.
According to estimates from the Center for Migration Studies, over 300,000 U.S. citizen children have at least one DACA parent and 39,000 U.S. citizen adults are married to a spouse with DACA.
Terminating the program without a solution would mean that well over a quarter million U.S. children would be at risk of having one or both of their parents removed.
Rescinding DACA would also harm these parents' ability to economically provide for their families.
Would a DACA solution open the door to Dreamers sponsoring tons of relatives to come to America?
If a Dreamer earned a green card, they'd be able to sponsor their children and spouses.
However, because Dreamers came to the U.S. at a young age, it's more likely that their children were already born in the U.S., making them citizens.
It's also likely that Dreamers met their spouses inside the U.S., making it likely that they are citizens, green card holders, or Dreamers themselves.
If a Dreamer were to earn U.S. citizenship, they could technically sponsor their parents and siblings for green cards.
But this too would be quite improbable given that their parents are likely barred from obtaining legal status as punishment for residing in the country unlawfully.
Siblings would likely wait decades in line due to crisis level green card backlogs.
Because of these barriers, the Migration Policy Institute estimates that Dreamers would, on average, only sponsor between .65-1.03 family members.
But even without considering all of these factors, family-based immigrants tend to benefit U.S. communities by encouraging the formation of family businesses and investing in new skills to meet the nation's changing economic needs.
Importantly, all family sponsors are required to prove that they have the financial means to support their family members. The process would be no different for Dreamers.
Where can I learn more about Dreamers and their contributions?
To learn more about the contributions of Dreamers and the need to pass a permanent solution, watch this explainer with Americans for Prosperity's President, Tim Phillips.