Conservative activists hold annual conclave on strategy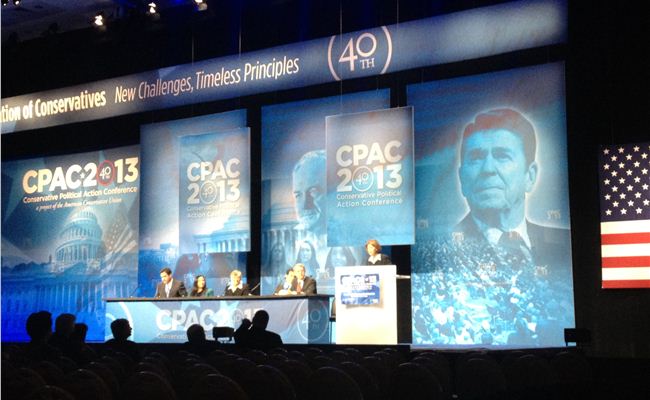 USA Today By Martha T. Moore 5 a.m. EDT March 14, 2013
Some old faces — but many young, female and Hispanic faces, too — gather for the annual Conservative Political Action Conference in D.C. to find ways to broaden their appeal.
WASHINGTON — As thousands of conservative activists gather Thursday for the annual Conservative Political Action Conference, they can look at Capitol Hill with some satisfaction. Government spending has been slashed by the sequestration bill, a Senate filibuster opposed the constitutionality of drone use, and the House Republican budget proposal this week was predicated on the repeal of Obamacare — all core conservative policies.
Yet among speakers stepping to the CPAC podium, one of the biggest names will be Mitt Romney, a reminder of the conservative movement's failure in the 2012 election.
As a result, CPAC conservatives will be wrestling with the same issue bedeviling the Republican Party as a whole: how to make more friends among voters, and whether the way to do so is to change the message or the messaging.
In an effort to broaden their appeal, organizers made a point of including younger speakers, women and Hispanics — groups Republicans say are key to future success — in an attempt to "live up to the new rules of engagement," says Al Cardenas, president of the American Conservative Union, CPAC's organizer.
Speakers include newly elected Texas Sen. Ted Cruz, Romney running mate Rep. Paul Ryan and former vice presidential candidate Sarah Palin. Also scheduled: Florida House Speaker Will Weatherford, 33; Mia Love, mayor of Saratoga Springs, Utah, who lost a close race for Congress in November; and Daniel Garza of the Libre Initiative, which supports overhauling immigration laws.
"The good news is all these speakers are proven conservatives. To get them to the stage, we did not need to reach beyond our comfort zone as conservatives," Cardenas says.
There will be panels on immigration and on reaching out to Hispanics. Another panel will focus on gay conservatives, though the last is not part of the official CPAC program.
"I do think that there is a real openness within the entire center-right coalition to a different approach toward bringing more people into the coalition," says Whit Ayres, a Republican consultant.
It used to be Democrats who complained that the public agreed with them on issues yet the party lost elections anyway, Republican media consultant Jeff Roe says. "We have that problem now."
Conservatives, he says, "sound like a bunch of government accountants when we speak," he says. "Democrats speak emotionally and do a darn good job of it. We speak logically and we don't connect."
Now in its 40th year, CPAC is both a recruiting center for young activists and a showcase for rising elected officials who may have presidential ambitions. Florida Sen. Marco Rubio has a speaking slot, as does former Florida governor Jeb Bush — but not New Jersey Gov. Chris Christie, who addressed the group in 2011.
Although Christie has annoyed some conservatives by accepting federal disaster relief, expanding Medicaid with federal funds and literally embracing President Obama, nothing should be read into his being passed over as a speaker, Cardenas says. "He doesn't deserve to be thrown under the bus by having a public discussion about it."
Republicans are set to issue a report Monday that analyzes the election failure and makes recommendations for future growth. The party has struggled to attract Latino voters, who make up 10% of the electorate but in 2012 voted for President Obama over Romney 71%-27%, according to the Pew Hispanic Center. Women backed Obama 55%-44%.
But former South Carolina senator Jim DeMint, now president of the conservative Heritage Foundation think tank, says conservatives should follow their own lights and "stop blaming Republicans."
"We need to take responsibility and control of our ideas and our message," he says. The 2012 election "was too much about millions of dollars of negative ads" instead of demographic targeting, which Democrats mastered, he says.
Conservative policies need to be articulated "in a way that doesn't alienate people," he says.
In other words, says Tea Party Patriots co-founder Jenny Beth Martin, "what would Reagan do?"
When President Reagan talked about conservative principles, "he did it in a compelling way and he did it optimistically," says Martin, who says she is coming to CPAC to rally the troops. "Instead of being downtrodden by the election results, we're looking how we can do better. Make sure they know we're still fighting."
http://www.usatoday.com/story/news/politics/2013/03/14/conservatives-strategize-widen-appeal-cpac/1986175/