ColoradoCare? More Like ColoradoCan't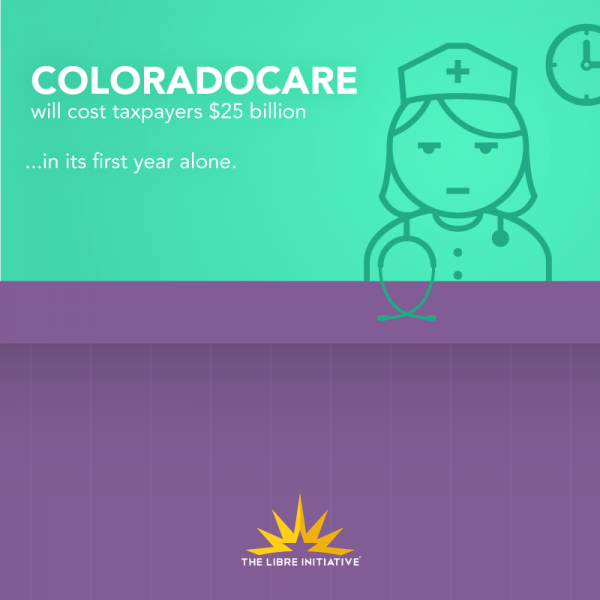 In a little over six months, Colorado voters will determine the fate of Amendment 69 – also known as ColoradoCare – which would impose the first statewide universal health-care system in the country. However, if Coloradans pass the November ballot initiative, they will face a new tax burden that will hit the state hard. For Hispanics, access to health coverage remains important, but it should not come at the expense of unnecessary new taxes. Real healthcare reform shouldn't just put a Band-Aid on the problem without addressing the policies that have caused costs to rise so high to begin with. In order to improve healthcare access for Hispanics and all Coloradans, policymakers must eliminate the barriers to supply and innovation that currently exist in the industry so that prices fall for everyone.
Proponents of Amendment 69 push the ballot initiative as the answer to the botched Obamacare law, taking advantage of a waiver provision that would allow states to create their own healthcare programs without adding to the federal deficit. The plan bears a worrying resemblance to the single-payer health care system that was rejected in Vermont in 2014. Advocates say that Coloradans deserve better options and that Amendment 69 would allow coverage for all those in need. Coloradans do deserve better options, but despite the claims of ColoradoCare proponents, voters need to look at the financial impact it will have on the state, as well as examine whether it actually addresses the problems with the healthcare system. As a matter of fact, it does not.
If Amendment 69 is passed, Colorado taxpayers and businesses will have to pay an additional $25 billion in taxes for the first year of implementation, and may face further increases in the years that follow. So the question remains: where will the Colorado government get the $25 billion, and who will get stuck with the bill? The ColoradoCare plan, which would be run by a state-sanctioned third party, would be paid through a 3.33 percent income tax increase for employees, a 6.67 percent increase for employers and a 10 percent tax increase for non-payroll income from self-employment. Business owners are hit twice by having to pay for a 10 percent in employment taxes and an additional 10 percent for all non-payroll income. With a high tax increase as proposed, business owners could be more inclined to uproot their business and relocate, which means it would have an effect on employment and the local economy. Employers who remained in the state would have a harder time raising wages for their workers, as more of their business income would be consumed by taxes. In fact, if ColoradoCare passes, the state will have the highest taxes in the entire country.
With 27 percent of Colorado Hispanics without health insurance, change is needed. Some Hispanics may see Amendment 69 as a pathway to achieving health coverage for their families, but in reality, they will see limited coverage with a rising tax rate. As Hispanics account for 21 percent of Colorado's population, and expanding access for our community should be a top priority. As employees and employers are hit with an additional tax if the ballot passes, Hispanics would feel the consequences harsher. With the median personal earnings of Colorado Hispanics being $22,000, the increased taxes from Amendment 69 could force people to choose between paying for groceries or paying for rent.
Policymakers in Colorado and in D.C. must look at alternative methods to provide the best options for their citizens. If legislators truly want to expand health care coverage, they must look to reform health care laws breaking down the arbitrary walls that separate Americans into separate insurance markets by state, by age, and by income. Policymakers should eliminate the price controls in the Medicare system that skew healthcare expenditures, and allow Medicaid users to cash out and buy higher quality private coverage. Any of these options would be better than Amendment 69. Replacing the ACA in Colorado is a great idea, but it should not be replaced by a bigger system with a heavier price tag.