Business groups hang their hopes on U.S. Rep. Tony Gonzales' work visa proposal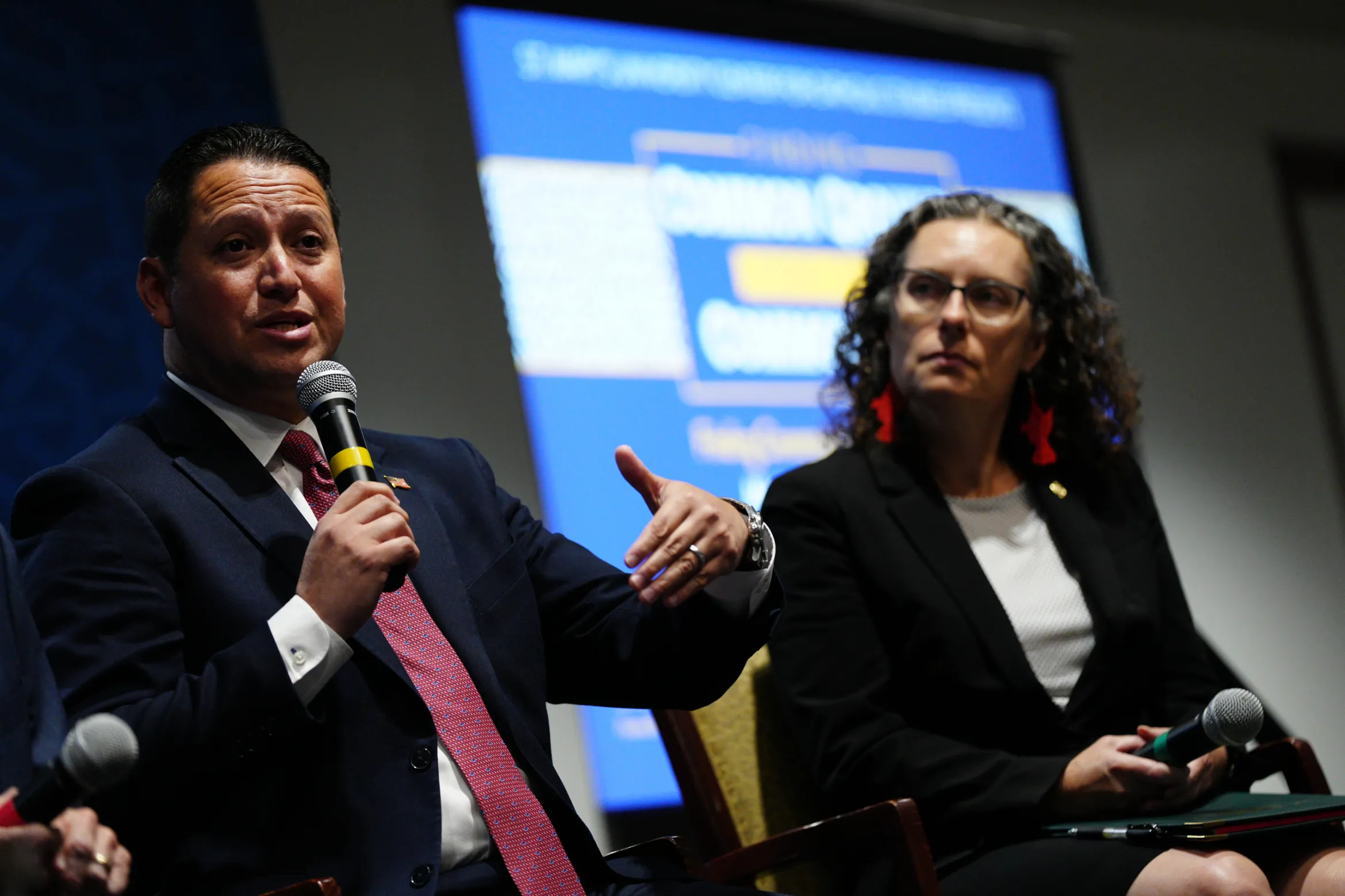 (San Antonio Report) – Powerful business groups that have long desired a legal pathway for more foreign workers believe they could finally have a serious opportunity in U.S. Rep. Tony Gonzales' (R-San Antonio) bill to reform the work visa program.
Business groups make up some the largest funders of GOP causes nationwide, but their efforts to allow more legal pathways to hire foreign workers hit a wall when Donald Trump fueled a successful presidential campaign around stricter immigration policies in 2016.
As labor shortages and inflation continue to frustrate consumers, however, leaders of those groups say they once again see an opening to push for changes that would make it easier to hire foreign workers for longer periods of time.

Gonzales' H-2 Improvements to Relieve Employers Act, known as the HIRE Act, aims to extend the amount of time foreign workers can stay in the U.S. on an H-2 visa from one year to three years, something business leaders say would allow them to plan for the future and train temporary workers for a broader array of jobs. It also aims to streamline the work visa renewal process by allowing interviews to be conducted remotely instead in person.
"Since the [COVID-19] pandemic, people really understand that we need a certain amount of workers that we simply don't have in this country," Glenn Hamer, president and CEO of the Texas Association of Business (TAB), said in an interview after a breakfast meeting Gonzales hosted with local officials and business owners at Southtown's Casa Hernán on Monday.
"From a chamber [of commerce] perspective, it's time to take advantage of that," Hamer said.
TAB is among a long list of state and national business groups now tapping their connections to make the case for Gonzales' proposal on Capitol Hill. The HIRE Act already has the support of a numerous agriculture associations, the LIBRE Initiative, which is affiliated with conservative billionaire Charles Koch, and the U.S. Chamber of Commerce.
Hamer, who previously led Arizona's Chamber of Commerce, said Monday that he's working with other state and local chambers to line up meetings with potential supporters. Meanwhile, Chelsie Kramer, an organizer with the American Immigration Council, said her group has been focused on selling it to some of the most conservative members of Congress.
Those efforts are making headway, according to Gonzales.

He said Monday that a Kansas Republican who met with the American Immigration Council reached out to him afterwards about signing onto the bill.
"I've now started to have members of Congress call me [about this bill], and I'm not just talking squishy center guys, I'm talking crazy lefties and crazy righties," Gonzales said Monday. "I feel like we're gaining a lot of momentum."

Man with a plan
Gonzales represents Texas' massive 23rd Congressional District, which stretches west from San Antonio and encompasses a large stretch of the U.S.-Mexico border.
Though he typically joins conservatives in their calls for stricter border security measures, his approach to other immigration issues at times puts him at odds with fellow Republicans.
Earlier this year, the state GOP censured Gonzales over their disagreements on immigration and other issues, and several challengers have since lined up to challenge him in the March primary. But business leaders still believe the San Antonian could offer them their best shot at advancing legislation in Washington, D.C., where Republicans control the House and Democrats control the Senate.
To address the first of those hurdles, Gonzales said Monday that he waited to pitch the HIRE Act until after Republicans approved a package of stringent border security measures that members can campaign on back home.
"This is a really conservative bill that has machine guns and dragons and moats and everything that a lot of Republicans run on," Gonzales said of the border security bill the House approved in May. "Immigration reform starts with border security … and now every single Republican can say … 'I'm strong on border security.'"
In the Senate, Gonzales said he's also making progress. "I've had senators I've never even talked to call me and say, 'Hey, can I introduce it on our side?'" he said.
But Democrats on Capitol Hill have their own ideas for where immigration reform needs to start.
For example, a proposal by U.S. Rep. Joaquin Castro (D-San Antonio) to reform the H-2 visa program focuses on changes to protect workers from a wide range of employment abuse.
Castro has not signed on to Gonzales' bill and his office declined to comment on the HIRE Act for this story.

Local impact
Speaking to local leaders this week, Gonzales said his plan could offer some relief for people seeking economic asylum, allowing them to apply in their home countries instead of making a dangerous, fruitless journey to the border.
"The facts are, nine out of 10 people who are seeking asylum will not qualify," Gonzales said. "So I've been of the mindset, stop sending them down the asylum route."
If improvements to the work visa program could reduce the flow of asylum-seeking migrants, he said, it could also relieve local governments of the unfair burden Washington, D.C. has created for them by failing to fix the immigration system.
"Oftentimes the local government has to carry all the weight for what the federal government isn't doing, and it's wrong," Gonzales said. "You're using taxpayer dollars to keep your head above water."
Those comments drew nods from a wide range of political and business leaders at Monday's breakfast meeting, including Bexar County Judge Peter Sakai, a Democrat who grew up near the border. Sakai said he and Gonzales have many differences when it comes to immigration, but he thanked the congressman for engaging local leaders in his work.
"We're dealing with a population that is marginalized and demonized," Sakai said of migrant workers. "What I'm hoping is that we tie [work visa programs] into workforce [development] so that they get basic skills, and so that they're not exploited."
John Russ, owner and chef of Clementine in Castle Hills, said he believed the longer work visas would do just that, allowing employers invest training in foreign workers knowing they'll be long-term employees. He's working with the Texas Federation of Restaurants to help Gonzales rally support for the bill.
"One-year [guest worker] programs are irrelevant for anyone who wants consistency," Russ said. "Three years makes it a space where we can have a conversation about bringing in culinary-trained people from South America or Europe in places where we can help grow our businesses and expand our footprint."

See original article here:
https://sanantonioreport.org/tony-gonzales-work-visas-hire-act/