Biden and Allies Outspend Trump on Spanish-Language TV $531,000 to Zero From Summer To Fall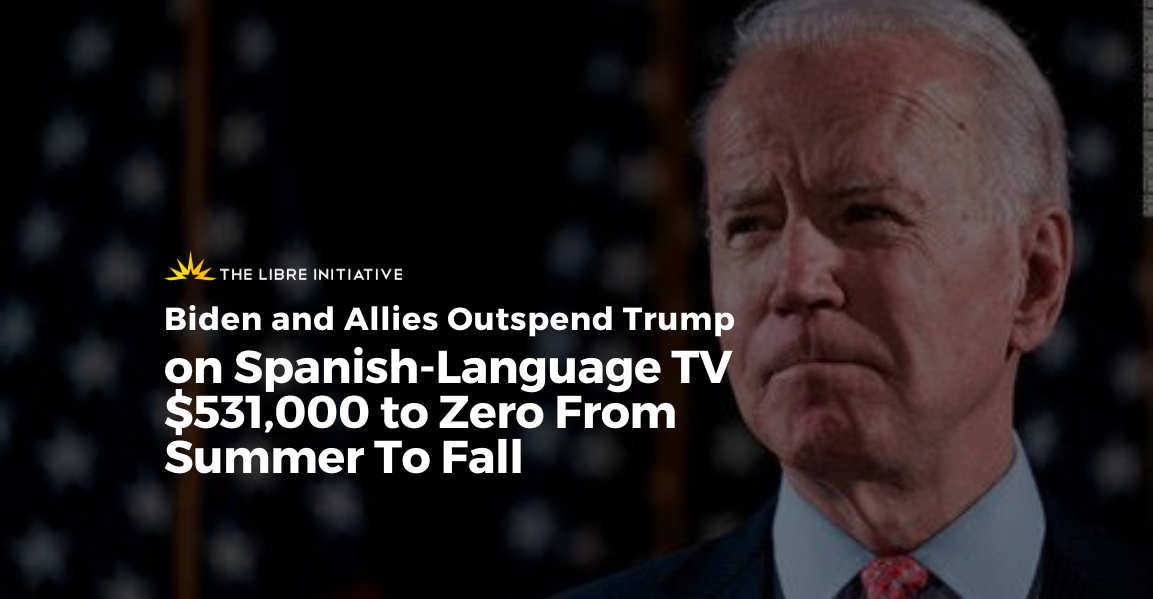 Biden and his allies have gotten on the board early with multiple buys in Phoenix, Las Vegas, and Philadelphia.


(The Messenger – Sep 26, 2030) Former president Donald Trump, leading in the polls, looms over not just the second Republican primary debate Wednesday night, but also as Democrats look ahead to a possible rematch between President Joe Biden and Trump next fall.
But with Biden already engaging in Hispanic outreach to win over politically important Latino voters, he's out to an early and sizable advantage over the former president when it comes to Spanish-language TV spending, The Messenger has learned exclusively.
Biden and his allies have outspent Trump from July all the way through November 7th ad reservations to the tune of $531,673 to zero in ad buys from the leading Republican contender, according to a political ad tracking report from the media tracking group AdImpact obtained by The Messenger.


The buys are exclusively in Phoenix, Las Vegas, and Philadelphia, underscoring how critical the Biden campaign views the Latino vote in the battlegrounds of Arizona, Nevada, and Pennsylvania. Approximately 60% of the spending is from the Biden campaign, with the other 40% coming from Future Forward USA Action, which launched last week helmed by former White House and campaign aides Cristobal Alex and Pili Tobar with ads focused on Biden's bipartisan approach and accomplishments.
While Trump has a dominant edge in Republican primary polling, and no other current GOP contenders are running Spanish-language ads either, Latino Republicans grumble that the former president is hamstrung by his legal troubles and indictments which have left him cash-strapped and unable to yet do spending that would help in a general election campaign.


Democrats, however, see the early contrast in spending as an unreported significant advantage as Biden looks to boost his standing with increasingly "politically curious" Hispanic voters.
California Rep. Nanette Barragán, the chair of the Congressional Hispanic Caucus, told The Messenger the early spending numbers are a "big deal."


"I think it's great that the president and his team are reaching out to Latinos early, it's one of the reasons we've been on the road too, to talk about what the president and Vice President Harris have done," she said, noting as others did, that this early focus comes with Julie Chavez Rodriguez, a Latina, serving as campaign manager for the re-elect.
"The Biden-Harris campaign is currently the only campaign on the air in the Las Vegas market reaching out to Latinos in English and Spanish," Las Vegas Rep. Steven Horsford said, adding that the state's Hispanic population is leading the way in Nevada's economic recovery.
Jose Parra, a former senior advisor to former Senate Majority Leader Harry Reid, said the earlier you can get into the race for the Latino vote, the more impactful it can be, rather than showing up to convince people weeks before the election.


"It's a very good sign," he said, noting that Reid also went up during the 2010 cycle, though not as early on Spanish-language TV, and Obama had a Spanish-language operation a year out in 2012. "We're not even in November of 2023 and they're already doing this, which bodes really well for their outreach."
The Biden campaign and the Democratic National Committee have made early moves to address shortcomings with Hispanic men in recent cycles and are making clear attempts to reach them and young Latinos by releasing ads in English, Spanish, and even Spanglish on the NFL on Telemundo and Liga MX soccer simulcasts.
The goal is to promote Biden's signature legislative accomplishments, from the Inflation Reduction Act to the Bipartisan Infrastructure Law, and address concerns Latinos have regarding the economy.
Speaking to The Messenger this week about a new poll from Univision that showed Biden in decent shape with Latino voters but with lots of room to improve, Univision polling director Sergio Garcia-Rios said the poll showed a general read of "disappointment" from Latinos with both parties.
He said he doesn't expect Latinos to move very much in a possible rematch between Biden and Trump, which means it will be about mobilizing voters to vote, which is where the focus of the ads comes in.

"So what you want to do is say we know things are rough, we're still on your side, and look at all the positive things Biden has done for the community," he said.


Rep. Barragán's mother Teresa may be an English-speaking U.S. citizen, but she still gets most of her news in her native language of Spanish.
In fact, after Univision released its poll with a sample of 1401 Hispanics, political observers from both parties said the biggest difference was that it included more Spanish-speakers than previous polls by major news organizations did.


"Spanish-dominant voters are an important piece of this and tapping into them early is a bedrock of a successful campaign, you can't do this last minute," said Chuck Rocha, who built a Latino outreach operation for Sen. Bernie Sanders presidential run in 2020, which had success in key states including Nevada, by doing repeated Spanish-language outreach.
Giancarlo Sopo, a Republican operative who led Trump's Hispanic advertising in 2020 but now supports Gov. Ron DeSantis, said the largest gulf in the Hispanic community between how people vote is "actually between English and Spanish-language dominant Hispanics."
"Spanish-dominant voters are Democrats' base and it makes a lot of sense if you're Joe Biden to shore up your base with Latinos and let your base know this is what I've been working on with Spanish-language ads," he said. "The fact that they're doing it a year in advance, means they recognize their weaknesses with Latinos."
Hispanics, he said, are the ones who are going to be hit hardest by inflation so it makes a lot of sense to go to those voters first and say "'This is what I've been working on for you.'"
"They're loyal Democrats and the ones he needs to turn out next year to be successful in places like Arizona and Nevada and to hit the numbers he needs to reach in Pennsylvania," Sopo added.
Alvina Vazquez, a Democratic strategist in Colorado, said Phoenix, Las Vegas, and Philadelphia are also hot spots for the type of disinformation aimed at Hispanic communities which has risen in recent cycles. She said it's strategic to message to "multi-generational" Latino communities in languages they're comfortable in.
"Non-English speakers struggle with getting information and materials important for their life and health so tactically it's super smart to hit those different generations," she said.
No current Republican presidential candidates are running Spanish-language ads from July to November, with the report showing that only one affiliated outside group, SOS America PAC, from Francis Suarez ill-fated campaign, spent $30,000 on a 30-second Spanish-language ad in the Los Angeles media market before the low-polling Miami mayor dropped out of the race.
But the Koch-backed LIBRE Initiative, which works in grassroots Hispanic communities, will be debuting an ad ahead of the debate on Univision's flagship show, Despierta America, a Spanish-language TODAY Show analog, on how "Bidenomics" is a failure for Latinos.
The ad, which will play on Univision all day, including during the debate and on the network's nightly news coverage, comes after a poll from the group showed 70% of Latinos disapprove of the direction of the country, which the group said revealed "Hispanics are not optimistic about the trajectory of the country under Bidenomics."
Daniel Garza, the president of LIBRE Initiative, recalled that John F. Kennedy said you can't start registering people soon enough, but he said he believes trying to sell Bidenomics is akin to putting "lipstick on a pig."
"It's a waste of money trying to convince people Bidenomics is working for them when clearly its not, with inflation, and the fact that you can't even buy a home anymore," he said.
Still, with the group opposed to Trump in the primary, and the former president not yet up with Spanish-language TV ads, Garza warned his party that just because Latinos have become "politically curious in starting to question their loyalties to the Democratic Party, it doesn't mean they're going to automatically vote Republican."
"Republican candidates need to show an alternative, that their ideas are better, and their policies will make your life better," he said. "That's what quality candidates who can peel off Latino voters do."

Read the original article here:
https://themessenger.com/politics/biden-and-allies-outspend-trump-on-spanish-language-tv-531000-to-zero-from-summer-to-fall-exclusive