Arizona officials bring case for immigration reform to Washington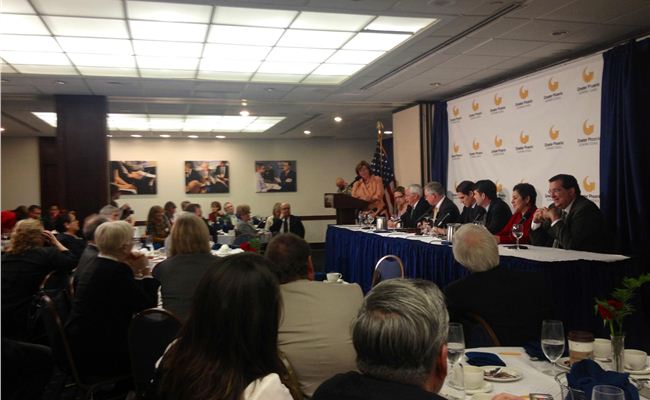 Cronkite News By Michelle Peirano April 24, 2013
WASHINGTON – A delegation of Arizona state and local officials came to Washington Wednesday to press for comprehensive immigration reform, saying the time for action is now while the nation is paying attention.
"Congress is listening and respects their views," former Arizona Rep. John Shadegg said of the ongoing dialogue in the state between reform supporters and those who question whether an immigration bill would help them socially and economically.
The forum, organized by the Greater Phoenix Economic Council, included advocates for immigrants, current and former members of Congress and the Maricopa County attorney. The mayors of Mesa and Avondale were also on hand.
They came to push for approval of a reform package, like the one introduced last week in the Senate that could create a pathway to citizenship for immigrants here illegally, if the border can be secured.
Not every state official agrees. Pinal County Sheriff Paul Babeu issued a statement this week that the nation cannot discuss the many elements of immigration reform while the border is not secure and current officials are still in charge of closing the border.
"Secure the border first, and then we can talk," Babeu said.
But Daniel Garza, executive director of the LIBRE Initiative, said Wednesday that a path to citizenship and more efficient immigration policies would help the nation.
"Arizona is seen as tough, too tough" on immigrants, Garza said.
"The responsibility of government is to protect its citizens, to protect the borders, to keep out the ones you do not want in, but also, borders are about trade and commerce," he said. "You cannot clamp down the border entirely."
Avondale Mayor Marie Lopez Rogers said the state's past attempts to secure the border have been misguided and created an environment of fear in her community. Immigration reform would integrate those now in the country illegally and allow integration of future immigrants, she said.
"We are all border cities because we are an immigrant country," Rogers said.
Arizona Rep. Kyrsten Sinema, D-Phoenix, credited the state's tough enforcement of immigration laws for the national attention the issue is getting right now. She said legislation like Arizona's SB 1070 told Congress that it needed to pay attention to immigration or the states would fill the gaps left by the federal government.
That tumultuous climate forced people to form an opinion on the issue, she said, which has created the real possibility that immigration reform could pass this year.
"There are enough of us in the middle to get there," Sinema said.
Shadegg agreed, saying he has colleagues who opposed immigration reform but changed their minds after having a real discussion about it.
He pointed to support for reform from Arizona Republican Sens. John McCain and Jeff Flake, two authors of the Senate bill, as well as recent support from Rep. Paul Ryan, R-Wis., as proof that it is not just a liberal issue.
"It is very important to understand what really is the issue here," Shadegg said. "A lot of people don't even understand the current law. They don't understand the community. At least not the Hispanic community in Arizona."
Maricopa County Attorney Bill Montgomery said the Senate bill touches on all the areas that concern Arizonans, and many of the provisions are consistent with conservative ideas.
The bill does provide for a more secure border, he noted, and once that is achieved, providing a path to citizenship will "take care of all the issues Arizona has been suffering from for so long."
"If we've established border security, then we are much more willing to do other things, because then we are not creating an unsustainable demand for other people to enter the country," he said.
In deciding how that should be done, it is important to recognize immigration as a national issue that affects everyone, Montgomery said.
"The more we try to identify Republican positions, Democrat positions, the current conservative view, the liberal view, the Hispanic view, the non-Hispanic view, all we do is create sides and we miss out on the American view," he said.
http://cronkitenewsonline.com/2013/04/arizona-officials-bring-case-for-immigration-reform-to-washington/