Anti-Immigration Efforts Would Increase the Size of Government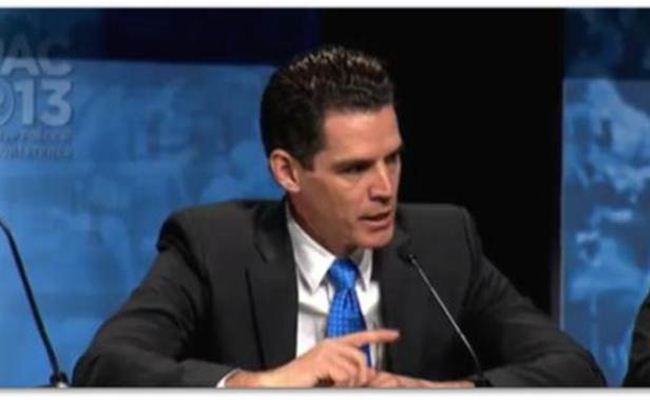 The American Spectator Daniel Garza May 13, 2013
"What we should do is enforce current law!" – It's a simple-minded rejoinder chortled by many an American at public meetings, on social media, and on talk radio in resistance to immigration reform efforts currently under way. But anyone who harbors fear and loathing of the growing power in the size and scope of government, as I do, should reject this tired and worn cliché exactly because of what enforcement of the current 1986 law calls for.
Under current law, local law enforcement can detain an undocumented alien for failure to prove legal status, but continued detention of the suspect beyond what federal immigration laws dictate may be deemed unlawful.
Consequently, the search, capture, incarceration, adjudication and ultimate deportation of the 11 million undocumented immigrants deemed to be in the country right now would require massive government overhaul that would include: Federal Immigration and Customs Enforcement (ICE)officials, border agents, court officials, and bureaucrats needed to handle the processing. Add to that the necessary resources, training, and infrastructure required to carry out the task.
For each undocumented immigrant you seek to deport, you would also see repercussions for American citizens who hired the undocumented workers: they too would need to render pleas of innocence or guilt before federal magistrates. The long arm of the government would need to expand its search and seizure powers to the fullest extent affordable.
The maximum fine possible per violation for failing to perform employment verification or for knowingly employing unauthorized workers is $10,000 as a repeat offender. Immigration and Naturalization Services (INS) could also request that the U.S. attorney bring misdemeanor criminal charges against any employer who engaged in a "pattern or practice" of hiring of illegal workers.
All private-sector businesses known to have employed or who currently employ undocumented workers-mainly our dairies,orchards, farms, restaurants, hotels, construction sites, and food processing centers to name a few, would be primary targets in the amped up federal dragnet effort. This would mean kicking in back office doors, seizing evidence of employment records, log books, and check receipts used in the unauthorized payment of salaries, and placing handcuffed business owners into patrol cars for charges of repeat violations of employment laws.
In the end, this "police state" approach,authorized by the deeply flawed 1986 immigration law, would mean wholesale detention and arrest of millions of American citizens, apprehension of millions of otherwise industrious and opportunity-seeking people, millions of divided families, millions of entry-level jobs going unfilled, a rise in search and seizure activity, an overburdened court system, ample opportunity for the violation of civil rights, and the complete implosion of the American economy—all of it needlessly.
Instead, we should move now to legalize the relationship between employer and employee. We can make allowances for American businesses to respond effectively to market forces by providing them the freedom to hire whomever they need in order to earn profit. We can move forward with policy that allows our young people to be educated and become full contributing members to a thriving American economy, and we can allocate there sources and staffing necessary to have a more secure and safeguarded border.
The good news is that we don't have to go far. The bipartisan legislation "Border Security, Economic Opportunity and Immigration Modernization Act of 2013", introduced by the so-called "Gang of Eight" senators, improves border security, addresses the status of the 11 million currently residing in the country illegally, allows for their children to step into the light of liberty and pursue their education without the fear of deportation, and would open the doors for new high-skilled immigrants through expanded visa programs.
Most notably, border security figures prominently in the proposal; the temporary worker component would not trigger until 100 percent surveillance and 90 percent capture rate of all those attempting toil legally cross the U.S./Mexico 3,000 mile border is achieved.
To call for enforcement of our current obsolete and impractical immigration law is to encourage guaranteed chaos that we are just not prepared for.
While the newly proposed Senate bill currently undergoes markups on the Hill—even without a single improvement—the proposed fixes are vastly superior to what's currently on the books.
http://spectator.org/blog/2013/05/10/anti-immigration-efforts-would