From terror to triumph: How an eight-year-old boy escaped from Cuba and became a champion of liberty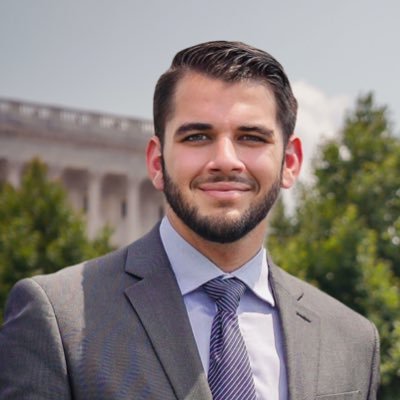 While growing up in Florida, Alian Collazo didn't necessarily hide the story of his harrowing escape from Cuba in 2003.
But he didn't broadcast it either. Alian still had loved ones inside Cuba, and he frequently visited them as soon as he was allowed a travel visa.
That all changed — somewhat ironically — in 2019, when the Cuban government refused to renew his visa.
"The message was clear that they would not let me to go back to Cuba ever again. I fear for my family in Cuba, but I also fear for them under this communist regime. I knew I had to do more."
By this time, Alian was already a champion of liberty for Cuba. His efforts reached a fever pitch when mass protests erupted throughout Cuba on July 11, 2021.
For the first time, Cubans' cries for "Libertad!"—Freedom! —were seen and heard around the world.
Eager to amplify those voices inside Cuba and drive home for outsiders the reality of life under Cuba's communist regime, Alian began telling his story in earnest.
Whatever you believe in, just pray
In 2003, Alian was eight years old. His mother wasn't much older than he is today. His father had left Cuba three years earlier.
"He was convinced that there was no future for my family or me in Cuba," explains Alian.
His dad had a travel visa to Russia. He never made it. Instead, he vanished into Madrid during a layover and drew upon what Alian believes is a uniquely Cuban survival instinct to eventually get to the United States.
"My dad was undocumented in Spain for two years. He didn't have a home and he would sleep on the streets and in churches. He worked in construction for 20 euros a day until he could buy a passport and visa."
Once in the United States, Alian's dad hatched escape plans for Alian and his mother that started with a late-night bus ride with 40 other Cubans fleeing toward the Gulf of Mexico.
The heart-wrenching details that followed are the stuff of movies: a nine-mile walk to the coast in the dark of night, an excruciating swim to the boat ("I didn't know how to swim," confesses Alian), a boat ride that was painstakingly slow for the first 15 miles before reaching international waters, an entire day adrift on rough waters when the boat's motors broke down, and violent seasickness among the refugees who were left with only bile in their stomachs.
"There was a doctor on board who checked on us and he told the people in charge that my mom was one of the worst off," Alian remembers.
After many failed attempts to fix the boat's engines, an older woman spoke up. "She said, 'We don't have anything else that we can do here. So, whatever you believe in, just pray."
One motor jumped back to life and got the boat to the Yucatan peninsula. But their grueling journey was not finished. Alian's father had paid the handlers half of their $20,000 fee to get his family to Mexico. The other half had come due.
"The handlers would make you call your family and say, 'If you don't pay the rest of the money, you're not going to see your family again. It was very, very cruel."
Once the balance was paid, Alian and his mother were given fake passports, transport to a Mexico City safehouse, then to the Rio Grande's famed Reynosa border crossing.
"When we passed the demarcation line at the center of the bridge, we ran to the border guard and said in Spanish, 'We want political asylum!' He was very gracious. He said, 'Please, come with me. We will help you.'"
Why do we have to work for someone else?
Reunited, the family began their new life in St. Petersburg, Florida. His mother became a certified nursing assistant and nurse practitioner, and found work at a nursing home.
In the meantime, Alian's dad had questions. "He asked, 'Why do we have to work for someone else? We can do this for ourselves!"
So, they bought a home and converted it into an assisted living facility. Soon, they added more facilities and staff and as the family business grew, Alian also thrived.
Less than 10 years after arriving on American soil and speaking no English, Alian shone in high school. He was a National Honors Society member and earned recognition as a "Young Hero" from the Pinellas County schools for his campaign to raise awareness about the plight of children in developing countries.
And he was elected student body president, a position he also held while earning a degree in International Relations at Florida International University.
After college, Alian returned home and, dove-tailing with his parents' business, opened Horizons Adult Day Care Center.
Fueled by gratitude for America's freedoms and opportunities, Alian began visiting Cuba.
"I have family and friends in Cuba who can't leave and I care about them. Their reality is survival from today to tomorrow. I felt if I could enlighten them about how different the world is outside of Cuba and change the mind of one person in Cuba, I succeeded."
As time went on, Alian's activities in Cuba began to intersect with his growing activism in America.
The Cuban government noticed.
Alian's first trouble stemmed from his work for the Tampa Bay Times from inside Cuba, when he wrote about the transition of government from Fidel Castro to Raul Castro.
"After that, I was stopped and interrogated every time I went back to Cuba," he says.
This only drove him to more involvement. During return trips to Cuba, he met with young, pro-democracy Cubans to impart information and supplies — money, USB cards, and flip phones. He also went to work for The LIBRE Initiative, where he serves as community engagement director.
Alian suspected that his efforts were making a difference in 2019, when the Cuban government refused to renew his travel visa. His hunch was all but confirmed in July 2021, when the Cuban people told the world, "This is the moment. Libertad!"
Alian sprang into action. He collected a team of volunteers and organized a Cuban Freedom March in Washington on July 26 — the 68th anniversary of the 1953 attack on a Cuban army barracks celebrated as "Revolution Day" and marking the beginning of the march to power by Fidel Castro.
"It was bigger and better than anyone predicted. We had a permit for 500 people and 10,000 people joined us."
The sheer numbers are impressive, but Alian was even more inspired to see so much engagement from younger generations. His volunteer team alone had no one older than 30.
"There's this idea that young people can't unite behind something other than socialism. Well, I have people on my team that are Democrats, Republicans, and libertarians. They all believe that communism is a failure, that the basic human rights of Cubans are being stomped upon, and that Cubans deserve a democratic system in which they can choose their own future."
The march in Washington D.C. was organized a month ago from St. Petersburg by Ailan Collazo, 26, who left Cuba on a raft at age 8 with his mother. https://t.co/BfDgyqweHJ

— Tampa Bay Times (@TB_Times) July 27, 2021
The Cubans' struggle is universal
Once witnessed by the outside world, the Cuban protests cannot be undone. But survival, warns Alian, is as deeply ingrained for the Cuban government as it is for the Cuban people.
"The regime has existed for 62 years and sold the world on a regime of lies like free health care and free education. While the Cuban people keep risking their lives to spread the message that they want liberty, we have to keep their message alive for the outside world to delegitimize the regime and promote liberty."
Alian continues mobilizing support for democracy in Cuba through grassroots and political activism. At the same time, he's sharing his personal story far and wide.
In the days following the Cuba Freedom protests, Alian appeared in the Tampa Bay Times, all manner of local television stations, Fox News, the Washington Post, Telemundo, MSN, and a John Stossel video, to name a few.
Though a terrifying time in his life, Alian hopes the reality of his experience can help spark meaningful change in Cuba and illustrate the need for governments around the globe to respect humans' fundamental need to be free.
"The Cubans' struggle is a universal struggle. And freedom doesn't just come from thin air. It comes from a government that preserves the rights of individual people. We all want the ability to live our lives as we want. And that is the story of Cuba."